About the work
Three Star Owl offers the distinctive clay work of artist Allison Shock. Each piece is made by hand, using the ancient and low-tech methods of coiling, pinching, modeling, and building with slabs of clay. Surfaces are often highly textured with self-made stamps, and decorated with slips and glazes appropriate for their intended use, functional or sculptural. From species-identifiable portraits of native fauna, to detailed dioramas of predator-prey interaction perched on boxes and jars, Three Star Owl clay displays a light-hearted yet mildly macabre view of the natural world.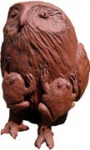 To see images of Three Star Owl pieces past and present, browse the Gallery. There are three slightly overlapping rooms:
Wazzo-ware (as in "oiseau") is ornithological in nature. Most pieces are functional —

they are meant to be used on the table, around the house, or in the garden. If you've seen Three Star Owl at a Birding or Nature Festival, you've seen Wazzo-ware.

Beastie-ware has a broader natural history. Including functional and decorative pieces with textures and postures inspired by critters like horned lizards, herons, terriers, and crabs, Beastie Ware looks like it might hop off the table on its own, or bite.
Sculpture includes effigy vessels, "rat-dogs", VLOs (Very Large Owls), and Smokeware (pieces fired in low-tech sawdust environments). They are representational but not always naturalistic compositions, exploring what it's like to be an organism.
To buy a piece, browse in the Shop, where items in stock and available for purchase are shown.
About the artist
In college and grad school I studied classical languages and Bronze Age Mediterranean archeology at the UC campuses of Santa Cruz and Berkeley. Abroad, I spent a summer at the American School of Classical Studies in Athens, and a couple of summers excavating an ancient tel in Israel. Learning about ancient people and their material cultures has given me an appreciation for age-old ceramic technology and the role clay plays in people's daily lives. This attachment to clay has been augmented by years of teaching clay classes at the Craft Alliance and Maryville University in St. Louis, exhibiting and selling my art in galleries and at sales and shows in Missouri and Chicago, and operating Three Star Owl studio first in St. Louis, and now at my home in Scottsdale, Arizona. My most intense clay teaching gig was making clay whistles with women on Scott Air Force Base whose husbands were deployed in Iraq, during Desert Storm.

A birder, hiker, and gardener, I've also done outreach and education for the World Bird Sanctuary in St. Louis, bringing birds of prey to schools and public events all over the Midwest. As a free-lance graphic designer, I've designed an odd assortment of items from tee-shirts to pogs to album covers. I've illustrated scarabs and clay cuneiform tablets for a museum's Near Eastern collection. And I've participated in Breeding Bird Surveys and Christmas Bird counts in Arizona and Missouri, regularly contributing to online ornithological data collection projects such as E-Bird and Project Feeder Watch, activities grandly dubbed "citizen science" these days.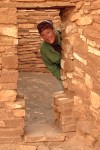 A denizen of the Sonoran desert, I draw inspiration from all the places I've lived — the beaches and wetlands of coastal California and New York, the redwood forests of Santa Cruz, the tidal inlets of Washington state, the hardwood deciduous forests and gentle topography of the Midwest — and the animals and plants that live in these places. Interested in trophic relationships (who eats whom), with a special interest in birds, especially nocturnal birds of prey (owls), I don't consider myself a wildlife artist, but an observer who takes notes in clay.
To read entries on birds, nature, art, etymology, Three Star Owl news, and even occasional spasms of fiction, visit my web log at Journal.