Three Star Owl Shop is "closed" for remodeling!  Watch for refreshed in-stock merchandise soon.

Even though the Shop is closed, feel free to browse, to see what kind of things are often here. And in the meantime, get in touch with Allison through the Contact page to inquire about item availability.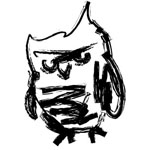 The things below are available for you to own.  In some cases, the items pictured are not the exact items in stock; email for details.
Click on an image to enlarge it. (Just to be clear, the images below are not to scale with each other.)
For details like shipping and return policies and other useful information, please scroll to the bottom of the page.

Sorry, out of stock, more being hatched


For more info about these bowls, click here

$48 – $85

Other items available from Three Star Owl

Have a special yard-bird sighting, a new life bird, or a favorite mammal? Here are magnets, mugs, and wall-tiles with your favorite species. A perfect gift for a birder friend, guide, or yourself, and easy to mail or take on your trip (well, the mugs not so much). The sturdy, colorfully glazed magnets are approximately 2-3″square, have deckled edges, and will stick firmly to most metal surfaces. The wall tiles, also glazed and deckled, are about 4-6″ square, and are meant for hanging. They have either a decorative copper hanger, or a faux-leather hanging cord. The mugs have a glazed image of the species on both sides, and a matte, slipped image on the bottom.

Available in a variety of species of birds, reptiles and amphibians, or mammals. Plants, too — just ask! Special orders, allow 4-6 weeks.

→

Magnets

approx 2-3″sq.

Variety in stock — ones shown may not be available.

$16 each

Each with a hand-made bead

→Scott's oriole wall tile $28

→Javelina eating prickly pear wall tile $32

Variety in stock — ones shown may not be available; please inquire. Prices vary.


→

Bird Mugs

$36 each; species identifiable glazed images


(approx. 5″ht, stoneware)

Variety in stock; please inquire.
Here is useful information about ordering:
If you see something here you like, contact Allison by email for details. Please include the name of piece you're interested in and your phone number. You're welcome to inquire about pieces you've seen in person that aren't on the website.
Three Star Owl values customer privacy and will not give out any of your personal information including your e-mail address, phone number, address, name, etc. to anyone. Ever. Really.
Shipping: if you'd like your piece shipped, FedEx, UPS, or USPS Priority mail rates and insurance (mandatory) are additional, but there are no handling charges.
→ Special orders can be arranged, with ample advance notice. At this time Three Star Owl does not wholesale.
Return policy: In the rare case of breakage during shipping, Three Star Owl will return purchase price and shipping costs to you, upon receipt of damaged item or satisfactory proof of breakage. In case of mind-changing or waffling about on your part, full purchase price of the item may be refunded upon receipt of the piece in its original condition, but any shipping fees cannot be returned.