The largish Six-Spotted Fishing Spider who took up residence in our swimming pool this summer has been missing for a couple of days. For the past two nights, I've gone out with a flashlight to look for him with no success, running the beam along the cracked tile edges and around the cement block angled on the top step for accidental swimmers to find a way out. I joked with E that maybe a lady fishing spider had found him to her liking.
But it turned out that was no joke. Tonight when I searched, there he was — lurking above the water on the side of the block ramp just like the last time I'd seen him. Then, looking more closely, I saw too many legs, and not in a good way. It seems the Cap'n had met his First Mate, who was also his last. His body was limp, hanging upside down from her grasp, or at least tangled in her limbs. I'm not an arachnid expert, it was dark and beginning to rain, and details were hard to make out. But here's a photo (if you're brave you can click on it to enlarge):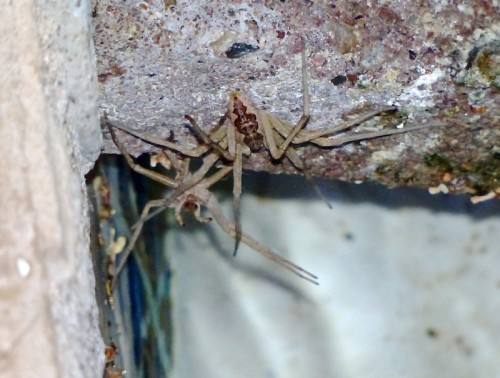 >> Fishing spiders in our pool. One of them is enjoying a little post-date predation. (Photo A.Shock)
Certain species of Fishing spiders are known for their male's "self-sacrificing" mating habits, and that's how I'm interpreting this poolside homicide. I suppose it could have also been a territorial dispute — I'll never know. But if the "last supper" theory is correct, the lady is now gravid, perhaps explaining the gleam in her eye. (Actually, the tiny reflective gleam that's visible if you enlarge the photo is my flashlight reflecting back from one of her retinas, like a cat's eye in the dark).
Here's some colorful literature on the "obligate death" scene of a Nebraska cousin (Dolomedes tenebrosus).