I haven't been posting here much recently, due to circumstances.
Circumstances like deadlines, ants, and the fact that I may be about to lose the entire file structure of my photos on the computer as a result of trying to solve the problem of a broken DVD player (a chain of events as obtuse as it sounds) — all the standard impediments to writing. So instead of shrieking, I choose to post this photo of an excellent organism we saw yesterday in the skirts of the Pinal Mountains: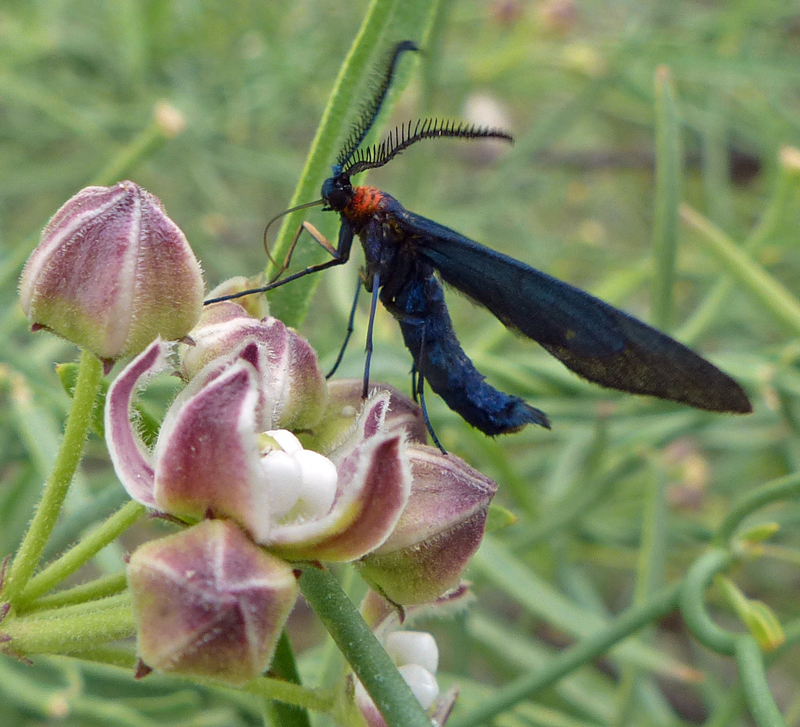 You can tell by its spectacular comb-like antennæ that it's a moth — the imago of a Grapeleaf Skeletonizer (Harrisina sp.). In this adult format, the metallic blue moth is harmless enough, here sipping nectar from a milkweed flower. It will only live a few days, which it will spend mating and laying eggs, which will hatch into beautiful caterpillars that will efficiently denude plants like grapes and virginia creepers of their foliage. Meanwhile, it wants you and any other looming predators to think it's a wasp and leave it alone — a strategy that works pretty well, until you notice those telltale pectinate antennæ, a dead giveaway for mothliness.
(Photo A.Shock)