…but only one came back.
Thanks to everybody who came by Three Star Owl at Wings Over Willcox — the show was a very good one for "the owl".  Cranes were seen, friends were met and re-met, many clay pieces found good new homes.  And thanks also to the organizers of the Festival, who have a lot of things on their plate: birders to marshall and haul, tables and chairs to account for, vendors to wrangle, and birds to find, just to mention a few of their duties.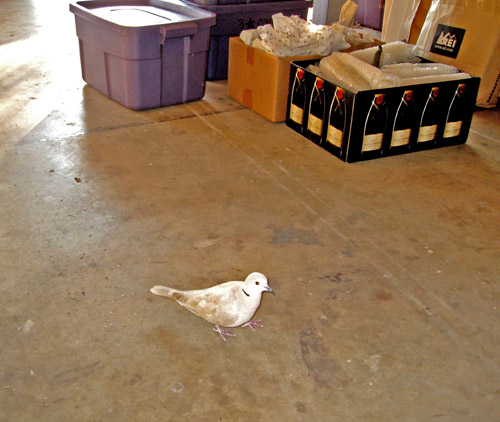 And, thanks to Hoover, the African Collared Dove, who once again saw me off from Scottsdale.
An excellent start to the New Year!
(Above, the tails of smoke-fired coatis rising out of bubblepak in a box in the back of the truck, awaiting transport; below, Hoover in the garage, supervising the loading of the truck.  Photos A.Shock)