Not keen on enacting the Mad Dogs and Englishmen scenario, E and I lounged for a couple of hours during
the heat of the day in the shade of a wild palm grove last weekend.
<< Southwest Palm Grove, Tierra Blanca Mountains, Anza-Borrego State Park (photo A.Shock)
This is a well-known oasis, and not terribly remote — but a destination doesn't have to require too much hiking before you can expect to have the place primarily to yourself, especially if it's slightly uphill. With only occasional others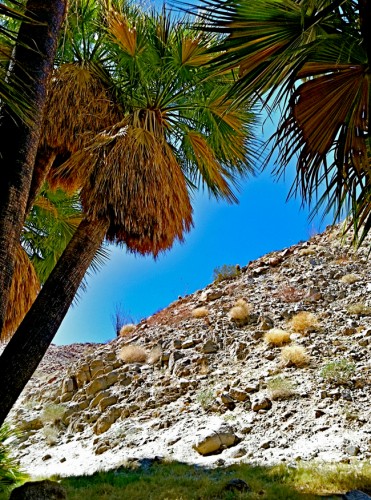 wandering through, we ate lunch and waited for the heat of the day to subside so we could march back across the desert to our campsite in the low sun.
E doesn't sit still very well, but he was amenable under the circumstances: just feet from the moist green calm of the grove, the white desert glared through dark trunks, reminding us of the hot, spiny, and hard path home.  He read, and poked around the substantial grove with his camera.  There was plenty to look at: like windmills, palm trees have a quality which readily vacillates between stateliness

and creepiness according to wind, light, and the observer's mood.  At noon on a calm day, these palms seemed merely sleepy and obliging, providing shade and coolth to travelers, both human and animal.  I sat on a rock, choosing this outlier palm to scratch into a small Moleskine sketchbook with an excessively-finepointed pen, fussing over capturing the complicated but orderly rhythm of shadow and light on the pleated, fringed fans, and considering how to show the blackness of the trunk without losing the way the sun picked out its checkered texture. Slatted shadows wheeled around us as the sun rolled across the afternoon sky.

Sitting still is a wonderful way to see birds, especially at a frondy desert oasis with high perches for cawwing ravens and low cover for furtive Lincoln's sparrows and simultaneously sneaky and showy Common yellowthroats.  Instead of keeping a list in a notebook, I wrote species' names as they manifested in the palm's portrait. It was possible to use a cramped scrap of background for this because bird diversity was low — the list was quite short, even with non-avian species like ants and butterflies included, and the few words provided the perfect coarse-textured, mid-range value for the desert beyond the grove.

<< Look closely, this isn't just a landscape, or a portrait of a stately middle-aged California fan palm (Washingtonia filifera), it's a bird list (click, twice, to enlarge).
Normally, previous years' fronds cloak the trunks of Washingtonia palms to the ground, giving them a mammoth-legged look: sturdy, shaggy and brown.  But this grove had burned sometime in the past few decades, leaving the surviving older palms bare-legged and carbony black, smooth and manicured like well-behaved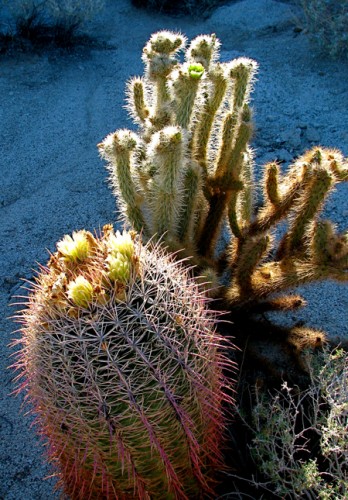 resort palms.  Little palms grew up around them, a decade or two old themselves, and bearing all their previous fans on their trunks naturally, indicating they'd sprouted after the last fire.
>> glowing spines (photo E.Shock)

We timed the return trip well, and eventually hiked back to camp with the low sun behind us.  It back-lit the cholla with a golden haze, and ignited the early Scott's orioles perched on red ocotillo tips into melodious yellow flames.  But the orioles wouldn't hold still for a photo, and there was no time for a sketch; darkness falls abruptly in the desert.