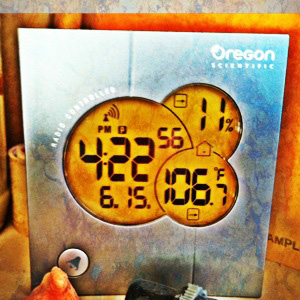 This time of year — for the next three or four months, in fact — my studio is hot.  Very hot.  Hotter than it is outside, by about five or six degrees, thanks to its translucent acrylic walls and ceiling.
To the right is the actual reading for Wednesday afternoon ( 106.7ºF = 41.50ºC = 314.65ºK) >>
Until the soggy (by desert standards) air of monsoon season arrives next month, the heaving, laboring swamp cooler can knock only about ten degrees off ambient outdoor temp. It also loudly pumps up the humidity in the small space.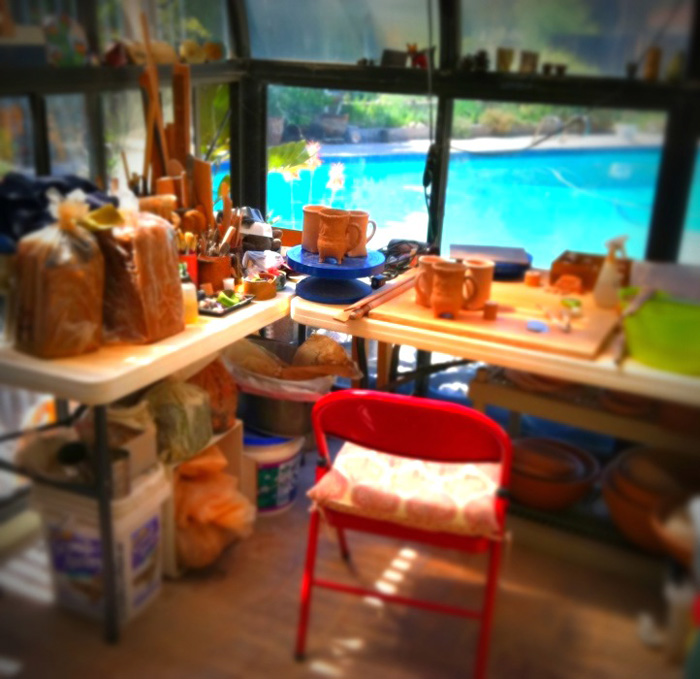 This means that by early afternoon when the June sun beats down on the transluscent panels of the roof and walls turning my work space into the optimum greenhouse for growing organisms native to the planet Venus, I will be working in 96 degrees and 44% humidity — genuine jungle hell in the desert.
<< tilt-shifted portrait of Three Star Owl studio

To combat this unavoidable Venusian greenhouse effect, I usually limit summer work hours to dawn to mid-day, and, when deadlines press, night-time, when the evap cooler doesn't have to out-compete the rays of the sun.  After that, I shut the machine off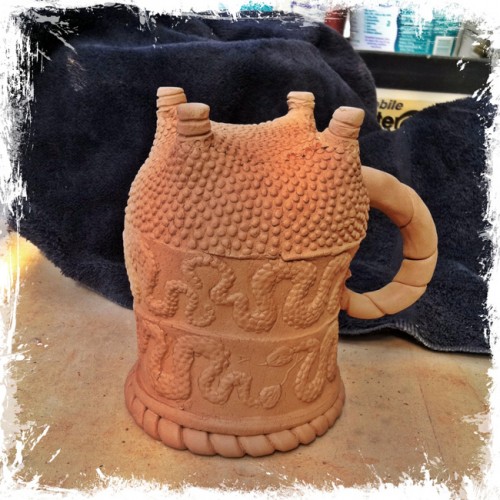 and let the room revert to its natural state of solar oven, until my next work session.
But it's not so bad: that's the time when the studio takes on its other role, as a highly efficient dehydrater of wet clay objects, like this quick-drying rattlesnake Beastie Mug >>.
(photos A.Shock)