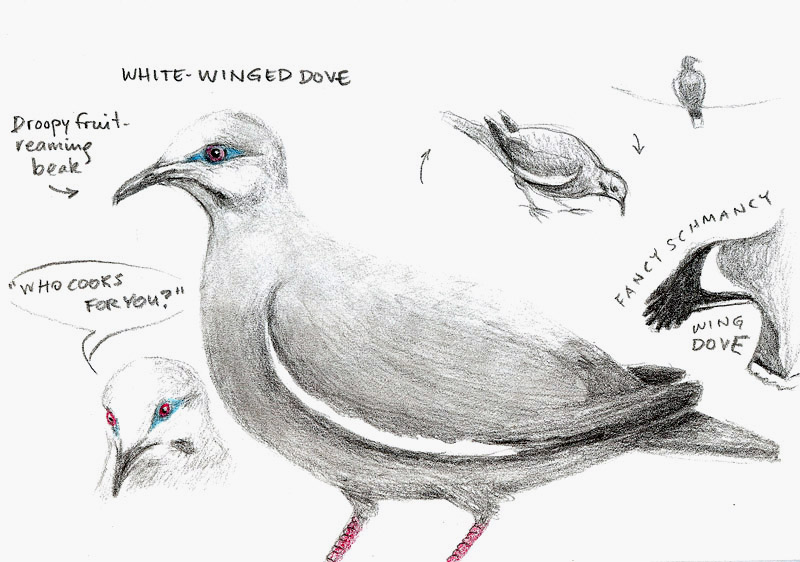 Arriving in the spring, they lurk like vultures for weeks on the crowns of blooming saguaros, waiting for the flowers to swell into fat green fruits.  When they do, the White winged doves (Zenaida asiatica) rip them open with their strong fruit-ripping beaks, exposing the sweet red fruit and feasting greedily.  Sometimes several doves will stack, treading clumsily on one anothers' backs, vying for access to their favorite food.
"White wings" are big doves, and during their breeding season, which are the hottest and driest months of the Sonoran Desert year, they rely heavily on the fruit of the saguaro for food and water.  So heavily in fact that in this habitat biologists consider them "saguaro specialists".  In other parts of their large range, which includes the Caribbean and parts of Central America, they are agricultural freeloaders, and vast flocks of them take advantage of bountiful farmland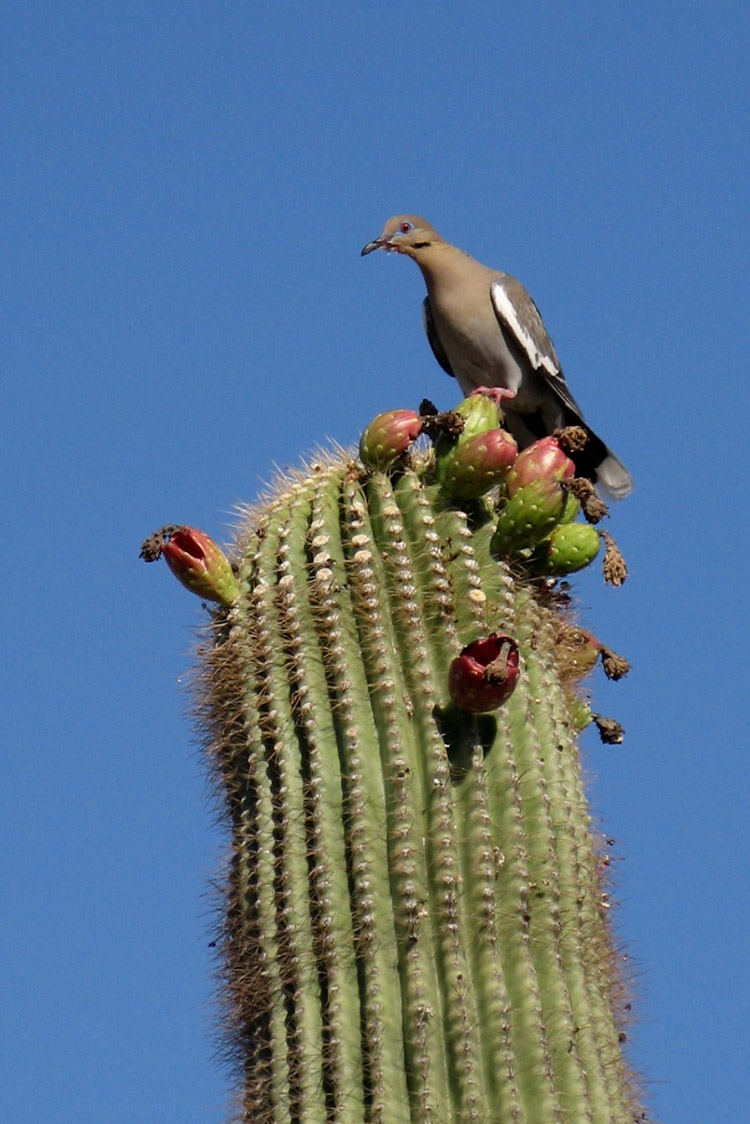 for food and roosts.  Here they are considered "tropical doves" by ornithologists and "pests" by farmers. As such, they have been hunted energetically, and their population numbers are subject to wide swings throughout the year and decades.
This pesky mooching aspect of this big dove is not hard to imagine: they are agressive and a bit greedy at the yard seed feeders, and will lower their heads and charge at smaller doves, like their "cousins" the Mourning doves, making a hoarse hoo that's the columbid equivalent of a growl.
But perched picturesquely on top of a fruiting saguaro against a desert blue sky, their frequent "who cooks for you" call means summer to me, and a welcome sign that the desert cycles are intact and thriving.
(Sketch book drawing, graphite, and photo, A.Shock)