The VLO (Very Large Owl) sculpture "Windblown Owl" found a new home recently.  The next VLO is underway, currently drying and eventually migrating to a client in California (shhhh, it's a surprise), and I wanted to use the same greenish-golden surface coloring and glazing effect on the new owl.
I had a basic idea of what had been applied to "Windblown", but I needed specifics.  That meant doing a bit of sleuthing.  The obvious place to start was my own notebook, which by means of hasty drawings, measurements, and notes records much if not all Three Star Owl clay work, theoretically in detail, although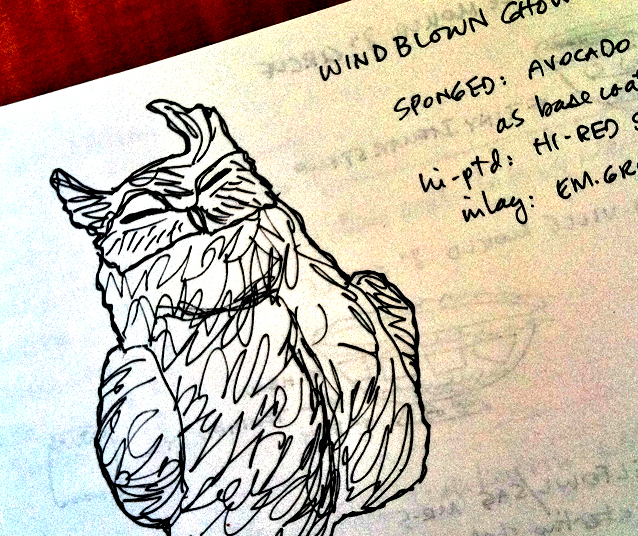 in practice I'm not always as good about it as I should be.  Happily, next to a small sketch, I found helpful marginalia on the slips and glazes used on "Windblown".
Windblown Owl VLO sketch (photo and drawing A.Shock, click to enlarge) >>
I enjoyed revisiting the drawing, which made me smile, the owl looks so much like a dog riding in a car with its head out the window.  The discoloration of the white background page is a photo-editing effect, a result of mercilessly and excessively bumping the contrast for more stimulating web viewing, as is the ability to see the drawings on the back side of the page, which in the actual book are only faint ghosts of lines.  Shades of paleographical or even forensic document investigation:
"I say, Holmes, you can see right through the page!"

"Precisely, Watson.  Evidently our potter had made a bowl with a conical foot and hummingbird squares stamped on it, some little time before glazing the large nocturnal bird."

"By Jove, Holmes, how can you possibly know that there were hummingbirds on the bowl?"

"Because I'm eating my porridge out of it right now."

[Watson chuckles] "Capital, Holmes — a bowl with cleverly stamped hummingbirds on it.  Well done!"

"And, may I add, my dear fellow, it's made entirely by hand…"
By the way, definitely Rathbone and Bruce, here, I'd say. Brett and Hardwicke would never have shilled for Three Star Owl.