Last night was a busy night in the yard. Well, I suppose they're all busy nights, but last night I was awake to appreciate it. Before human bedtime, the geckos were at their posts under the porch lights (our yard residents are the non-native Mediterranean Geckos, not the indigenous Western Banded, but they're still charmingly rubbery voracious devourers of insects, especially moths), and the Butte was going off sporadically, the coyote pack's yelps ricocheting off the slickrock. There might have been the sharp yip of a Gray Fox, which also inhabit the neighborhood, but it was faint. Somewhere, the spadefootlets must have been hopping around foraging in the dark, as well.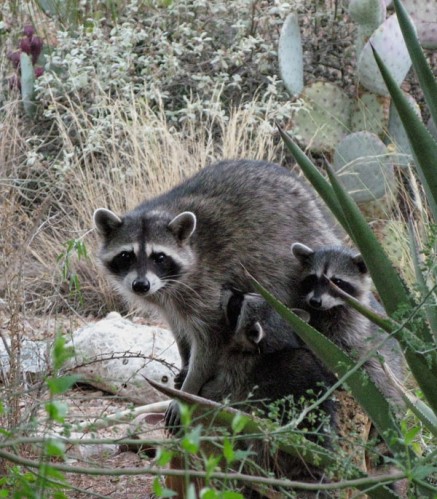 After "bedtime" though, things really got going. A female raccoon marauded past the bedroom trailed by at least one kit from this year. Last year there were two separate families, one with two, the other with three kits each. That's a lot of pounds of raccoons living off the yard, plus Papa, too, who has only half of a tail, diminishing his raccoon-gestalt but not his swagger. We're not sure how many there are this year, because our view of them is most often through the arcadia door, and sightings are limited to who rolls by the framed glass, like watching a dog show on the TV animal channel.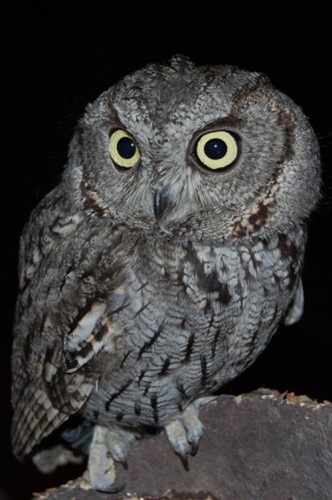 Last night the main event (for me), however, was again being awakened by an owl. Not the Great Horned owl this time, but an owl I'd never heard in our yard: a Western screech owl. They're not uncommon in the area — I've seen them peering out from day-roosts in saguaro cavities at the nearby Desert Botanical Garden — but we've never heard or seen them in our little scrap of modified desert. This one called from just after 2 am until the Butte really exploded about half an hour later, when the owl stopped. Its mellow short hoots were emitted in a cluster which descended slightly at the end. It sounded much like the "Morse code call" of its cousin the Whiskered screech owl, but that species doesn't live in this part of Arizona. The call was soft but regular, and started up again at 4 am, and went on for at least 45 minutes, when I fell back to sleep.
So far, like the generously rainy Monsoon of 2008, this has been a generously owly season in the yard, and this Western screech owl, who may always have been here, or who may be a new neighbor, ushered in fall last night; I'm glad I was awake to hear it. With luck maybe we'll catch a glimpse of it sometime, hunting pocket mice and crickets under the desert trees. Right now, though, I think I need a nap: the first nap of Autumn!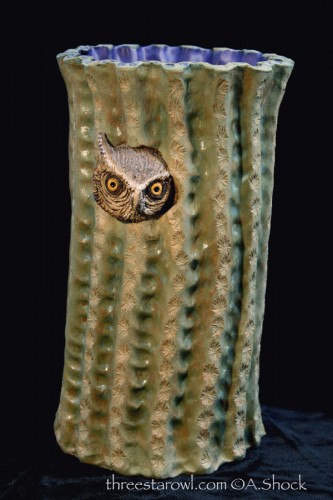 "The northern autumnal equinox takes place today, Monday, Sept. 22nd, at 15:44 UT (11:44 a.m. EDT) when the sun crosses the celestial equator heading south for the year. Autumn begins in the northern hemisphere, and spring in the southern hemisphere. Happy equinox!" (Spaceweather.com)
***
Photos: Raccoon family, A.Shock. Western screech owl by L.Kovash. Left: a Western screech owl peering
from a saguaro vessel (stoneware, 12″), from Three Star Owl.
Photo by A.Shock.