It's Valentine's Day week, and I'm feeling a little sentimental. So here's a farewell to a piece that recently found a new home in Florida. It sold from the co-op gallery I'm involved with — On the Edge Gallery, a fairly new outlet for Three Star Owl — and I was there when the customer bought it. It's a wall piece, not something I frequently make, an effigy vessel of a very much larger-than-life horned lizard. In the lizard's scaly back is a window into its hollow innards, where a tiny pink and black gila monster hovers in the darkness: the horny toad's imagination (why not an imagination in a gizzard? — they used to say stegosaurus had a second brain in its hip), where it's considering what it would be like to be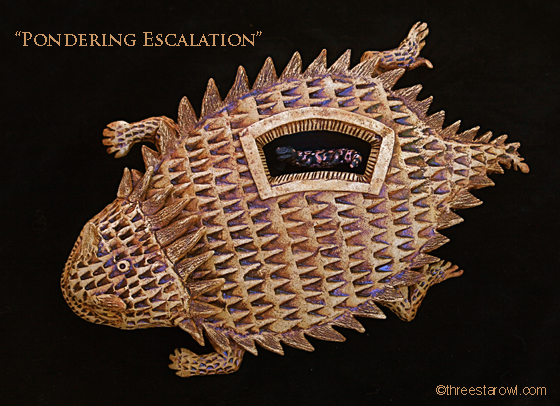 armed not with defensive weapons like scales and spikes, excellent camouflage, and the ability to squirt blood from your eye, but to be aggressively, offensively venomous. I'd engraved the title, "Pondering Escalation" on a carved banner across the back of the piece, along with the copper hanging wire and my signature stamp.
As I cautiously swathed it in bubble-wrap to defend the clay details against the rigors of travel as carry-on, I realized I wasn't quite ready to let the piece go. I wished I'd taken more photos, wondered if I'd gotten a photo of the back (I hadn't, damn it), and hoped it made it safely to its new destination. Like a real horny toad, the clay piece is sturdy and spiky but a little bit tender, and I worried about a horn breaking off, or the tiny inner gila monster on its invisible pedestal being jarred loose on its journey.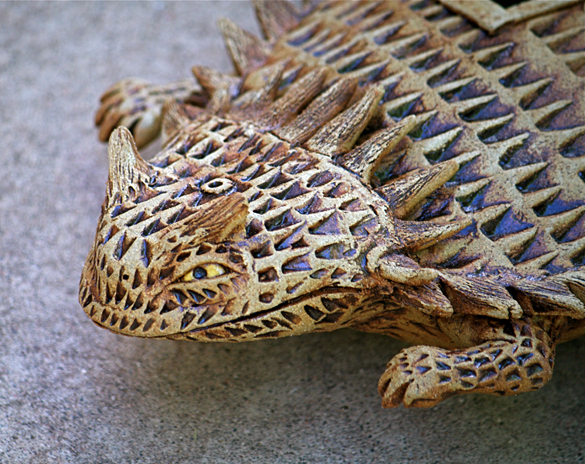 We can't know what a horned lizard would decide after pondering escalation, but I guess that innate tendencies — biology — will always win out: being resilient is a survivor's most valuable trait. The glow of a vibrant gila monster may enchant a humble horned lizard for the duration of a dream, but after all, venom is expensive for an organism to produce and deliver, and the venomous find it hard to keep friends. Have a happy Valentine's week.