The Stacked Toad Effigy Vessel is being built from the bottom up, with a brown, groggy, stoneware clay. The working composition is in my head, informed by pictures of desert toads on the work bench, and adapted as it goes. A small maquette modeled last week is nearby for reference, although the maquette has species other than toads in it as well. The Toad Stack is on the scale of a teapot, so in addition to being a Toad Effigy, it could be considered a Teapot Effigy as well: a vessel in the shape of a teapot, if your concept of teapot is broad. Perhaps it will be a Stacked Toad Teapot Effigy.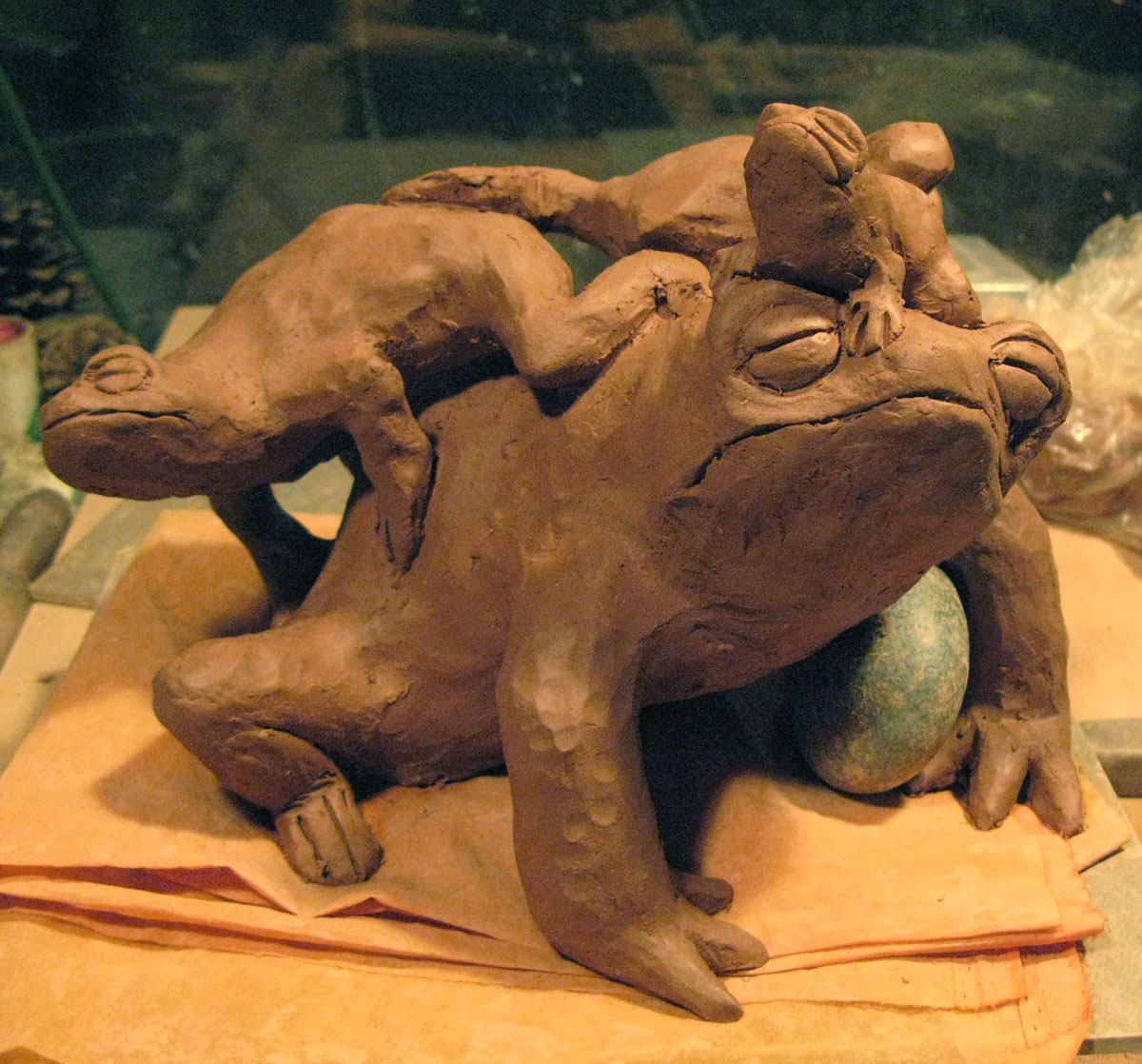 The Base Toad was modeled solid, allowed to set up to a manageable firmness, then hollowed out and slightly expanded in size by pinching. When firm enough, each limb was cut off one at a time, and a tool was inserted up the center to create a tunnel, then the limb was scored and slipped back into place. The smaller toadly elements are pinched informally into toadly shapes. Each new toad is added when the clay has "set up" — when it's stiff enough to hold its shape, but still pliable enough to conform to the surface it rests on, and also support the next element. TOES are beginning to appear (Potential Toe Count: 72; Actual Toe Count: 19 so far; current Biological Digit Deficit, 73.5%). Because the interior is hollow, there are a couple of small invisibly placed outlets for air to escape. This speeds drying and will allow the piece to be fired without exploding as the heating internal air expands. When all toadly elements have been added, the surface will be textured in a toadly manner: bumps, bugs, and paratoid glands.
Useful tools: teaspoon and loop tool for hollowing; palette knife and small knife; Tiranti hardwood sculptural tools knobbed at one end and pointed at the other for smoothing internal seams and detailing; toothed metal rib; smooth plastic rib; cheap blow dryer for force-drying clay; wooden paddle made by L.
Our autumnal weather has slowed drying time, so there are lots of gaps in toadly modelling activity while waiting for wet clay to set up. These times are spent in making the next toads, working on other pieces, or going out for excellent sushi at Dozo. In order to prevent the Stack of Toads from settling under its own weight, it will stay loosely wrapped in plastic until tomorrow, with a smooth river cobble wedged under its left front limbpit to help support it until work can resume. What will the Toad Total be?