I heard a sharp "pik" in the backyard this morning, so I grabbed the long lens and went out to look for the male Black-headed Grosbeak I'd heard and briefly glimpsed at dawn from the comfort of bed (birdwatching from bed is one of the things I love about the big sliding door in our bedroom — I should keep a bed-list: Harris's hawk, Cooper's hawk, three species of hummers, two owls heard, Gray fox, raccoons, etc, etc. Really, it'd be a pretty good list for mattress-based observation). Unfortunately, later in the day, no Grosbeak could be found.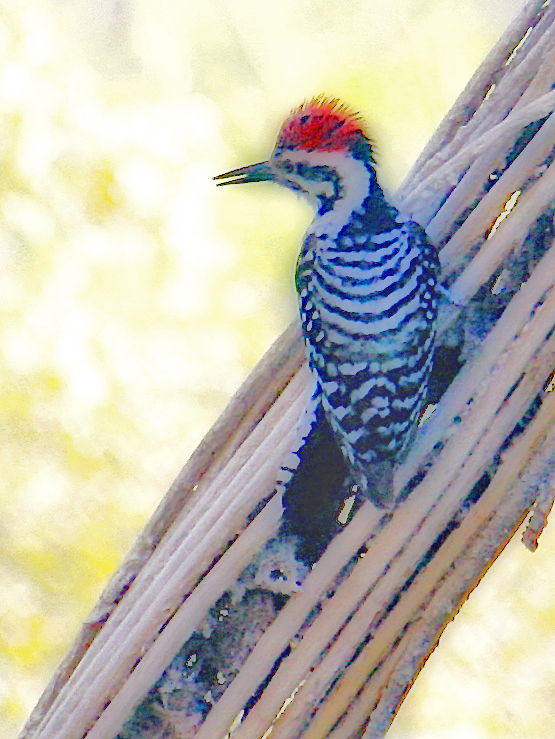 Instead, the generator of the "pik" call was a male Ladder-backed Woodpecker (Picoides scalaris) being shown the door by a Gila Woodpecker. Because the squabble was moving swiftly west across the yard, I managed only two or three shots and none of them were great.
The subject birds were in the shade with a brightly lit background, and because of the action, low light, and distance nothing was terribly sharp. But the Ladderback had perched fetchingly on a saguaro skeleton, and I decided to try to salvage the shot.
The result is above, a manipulated photo-based digital image, "overedited" for sure but pleasing nevertheless, with a painterly quality that captures the gist of the little woodpecker and his eponymous barred back.  Not to mention his hilarious spiky red chapeau!
Below is the undistinguished original image for comparison, with the Gila Woodpecker off to the left: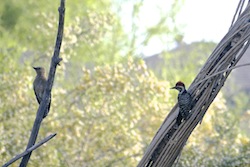 The process was hit or miss, and I don't recall each step.  But I started by cropping the shot heavily, then I ran it through a few filters (including the canned Orton filter effect) and stopped tweaking when I liked the look.
(Photos A.Shock)