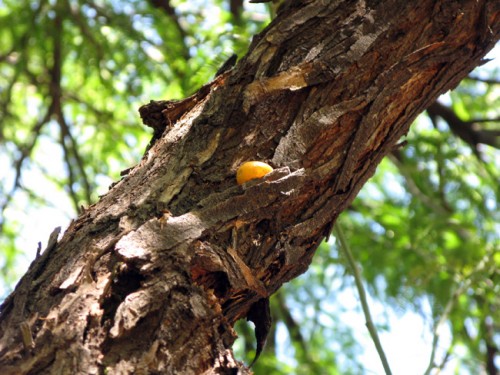 This morning, I found a golden egg, high up in a tree.
Nestled into the rough bark of our backyard mesquite, a magical bird had laid a golden egg.  This was excellent: what a windfall! — my fortune was secured, if only I could reach it.
But it was too far over my head, so I had to satisfy myself with longing for its golden curves through binoculars.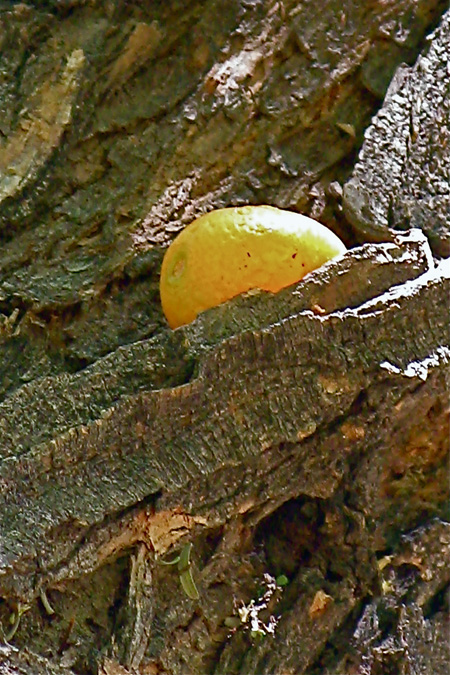 And guess what, it wasn't an egg at all, but some type of -quat or other: kum-, or perhaps lo-. Yes, that was what it was: a small orange fruit, probably a loquat since a neighbor has a tree, wedged into somewhere safe by a bird, or maybe a squirrel, to be retrieved later.
Who would do such a thing, hiding a golden treasure in plain sight?  The jammer would have to have sufficient strength, beak/jaw gape, toe-grasp, cleverness and agility to handle hauling a small fruit into a tree, and stashing it on a vertical trunk.  There are several candidates,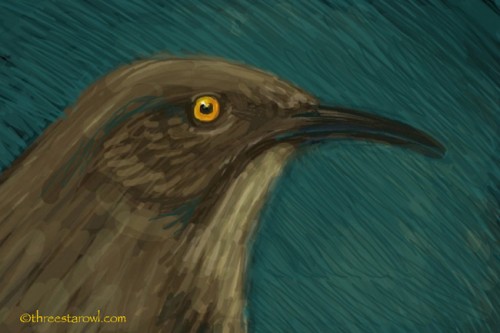 but I strongly suspect the Curve-billed thrashers, who have just fledged their ravenous brood and are working incessantly, combing every crevice in the yard to feed their greedy-gaped offspring.  These industrious foragers will eat anything, seed, suet, bug, or fruit.  And they have an eye for treasure, just as golden as loquats.
(All images A.Shock).