Here are some things you need to watch birds in Costa Rica, presented in no particular order:
A pack or bag with a waterproof stuff sack inside (I used a Sea to Summit drysack, lightweight, relatively durable, quite waterproof).  Trust me, the waterproof part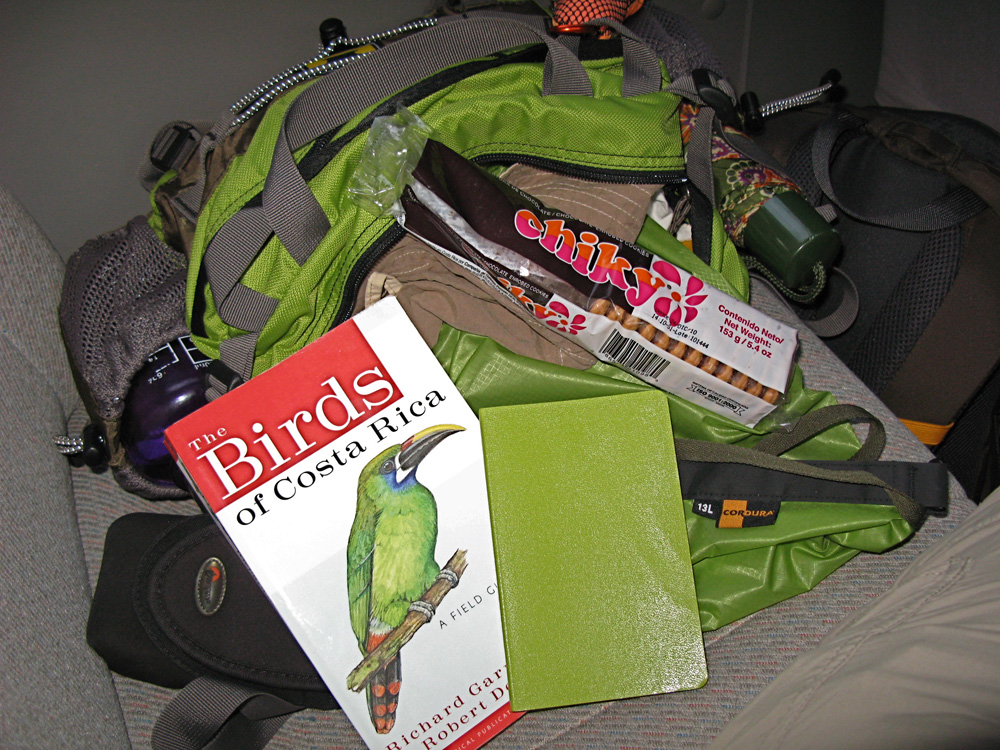 will make your camera, checklist or notebook, and cookies happy.
Waterproof binoculars.  These will come in handy because you'll most likely encounter rain, and maybe a tippy canoe (as on an earlier trip to Belize).  Also sunscreen, because it doesn't always rain.
Cookies: I recommend chiky (above), a tasty chocolate-covered bickie readily procured from quickie-mart type establishments.  Crunchy, chocolaty, affordable, and eminently share-able.  Everyone loves a chiky!  Also recommended, jalapeño-flavored plantain chips.
Field guides for birds, plants, arthropods, whatever your interests are.  I went with Garrigues and Dean for the birds (above), as it's more portable than the venerable and learned Stiles and Skutch, which has more info in it.  Your call, your back.
Notebook: Rite-in-the-Rain or Moleskine (above, green), again, your choice; both are tough enough to withstand moisture, repeated opening and closing and rapid shoving into velcro-closure pockets as new birds suddenly appear.  And, again, I recommend a waterproof writing tool.  I used a Faber-castell Pitt artist's pen, color Sanguine,

also good for sketching.
Umbrella.  Good for optics, and does not produce excessive sweat like encasing yourself in a plastic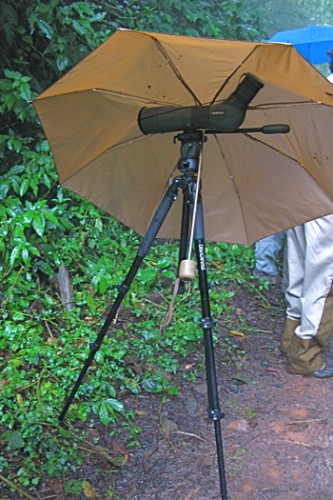 poncho. Take special care while birding in groups to not poke each others' eyes out with spokes, especially in the heat of the moment when the Silvery-fronted tapaculo is singing in the drippy undergrowth at your feet.  (If you're going with a tour, make sure umbrellas are approved by your birding leader/company).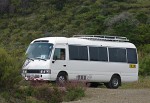 A comfy, easy-to-see-out-of bus to get you around (left).  Air conditioning is a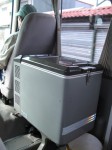 plus. In the bus: a cooler full of drinking water (right).
Also in the bus: People Who Know What They're Doing.  Our leader and driver were Borderland Tours'/Costa Rica Expeditions' Charlie Gómez and Niño Morales (below), who can both readily find a bird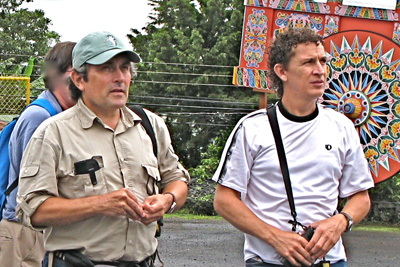 by sight or sound and see to it that everyone in the group gets their eyes (or at least one eye) on it.
With the assistance of these experts and items, you're ready to look for a bird.
Here's one now.  And it's a good one — Charlie and Niño are exhibiting excitement.  "Just" a Mourning dove, you say?  Why, no!  It's a female Maroon-chested ground dove (Claravis mondetoura).  Take a close look with those waterproof binoculars, you may not see this one again (digiscoping by Charlie Gómez):

(All still photos A.Shock)