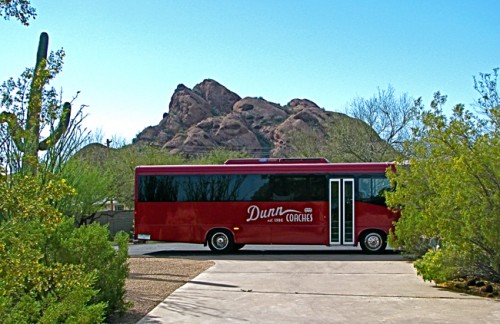 It's not every day a big red tour coach pulls up in front of the house to let people off.
Recently an opportunity came my way to take part in a tour series run jointly by Ultimate Art and Cultural Tours and the Scottsdale Museum of Contemporary Art.  The event is the Behind the Scenes Artist Studio Tours, and today two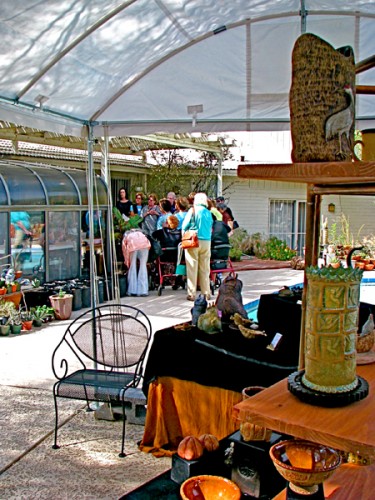 groups of visitors came by Three Star Owl and other studios in the neighborhood to see what we're up to.
There were Wares available for looking at or buying, the small clear studio space was as buffed and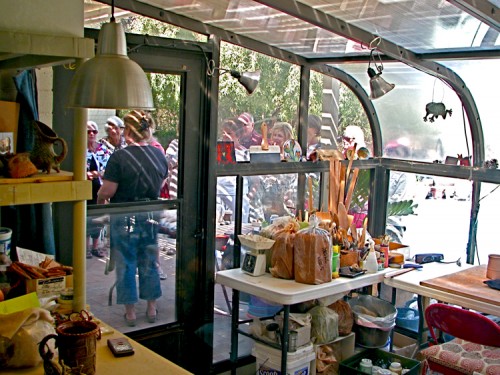 burnished as it gets and open for visitors.  I set up a table just outside its door, and demo'd a large coil owl and stamped raven mugs.  And E had spiffed up the yard and plants to such a degree that ladies were trying to buy some of the cactus with beautiful spring blooms on them right off of his shelves.

Folks marched in the back gate and across the wash, but we had no worries about the groups accidentally disturbing the hummingbird nest — the nestling fledged the day after this post went up!
My thanks to Ace Bailey of Ultimate Art and Cultural Tours and Perrin McEwen of SMOCA for including Three Star Owl in this event.
(All photos E.Shock, cliquez to enlarge)