Next Friday Saturday and Sunday Oct 21, 22, 23,  is the Camelback Studio Tour, and Three Star Owl will have wares available for you to peruse and perhaps purchase. Other artists' studios nearby in the neighborhood will be open as well, with more than 20 artists offering their art for pre-holiday shopping. Support local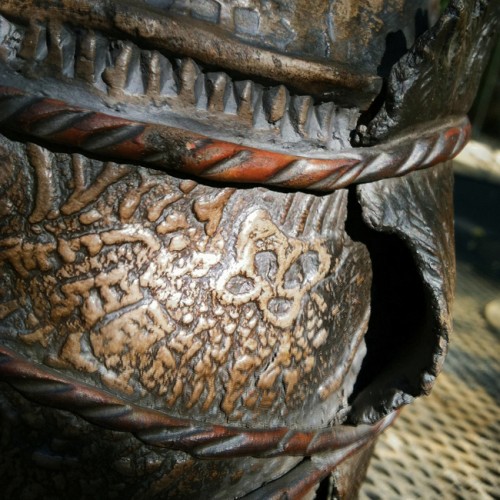 artists and artisans and stop by: 10-5, free to enter all the studios.  Click here for details.
<< sneak peak of a piece that's about to fly across the country

During the event, a new piece called "Ossuary, An Archæology of Resurrection (<< detail left) will be lurking in the corner, awaiting shipping to St.Louis for an upcoming show, "Death and Rebirth" at Maryville University, curated by James Ibur.  St. Louis artists Ruth Reese, Ron Fondaw, Eric Hoefer, Lili Bruer, Renee Deall, Tim Eberhardt, Mary Ann Swaine, Matt Wilt, Susan Bostwick, Jimmy Liu as well as national artists Amanda Jaffe, Chris Berti, Russell Wrankle, Kurt Weiser, Adrian Arleo, Arthur Gonzalez, Ben Ahlvers, Mark Messenger, Pete Halladay, Paula Smith, and Allison Shock will have work displayed from Nov 2, 2011  through  Friday, Dec 2, 2011.