Tens of thousands of Sandhill cranes winter in the fields and wetlands of far southeastern Arizona each year, and they have their own festival: Wings Over Willcox, held in mid-January by the historical community of Willcox, AZ.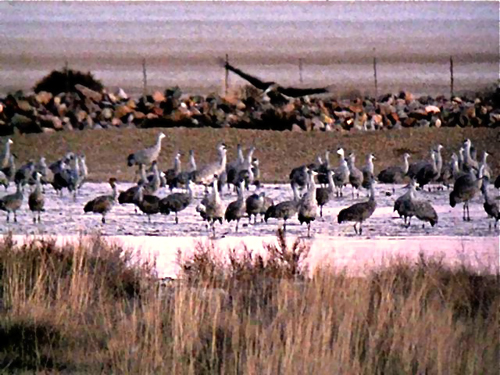 This year is the 19th Annual WOW Festival, and it's part of SE Arizona's celebration of the state centennial.
>> Dawn pinkens sandhill cranes standing in the icy waters of Crane Lake south of Willcox, AZ (Photo A.Shock)
There are tours to the local hotspots, not just for crane-sighting, but for other winter birding specialties in the bird-rich, high-desert grassland in and around the Sulphur Springs Valley: the Chiricahua Mountains, Whitewater Draw, Lake Cochise, and more.  Not all of the outings are bird-related: there are historical, agricultural, gastronomic, and archeological tours, too. Check availability for tickets here. There are also seminars by local experts on anything from photography to astronomy to more birds and birding, which I believe are free.
If your tour of choice is sold out, don't despair. The cranes can be viewed (and heard!) flying in v-formation overhead often, but you can also visit places like Crane Lake (above)

and Whitewater Draw at dawn and dusk to see flights of cranes leaving (morning) or returning (afternoon) to and from foraging in the agricultural fields during daylight hours.  Driving the public farm roads south of town at any time of day, you can luck into hundreds of cranes moving in a group through a field, or a fierce bird of prey like a Ferruginous hawk patrolling the skies or perched on a wire over the field margins.  Loggerhead shrikes are fairly common, as well: check out a previous post of mine for more photos.

<< three Sandhill crane magnets by Three Star Owl will be available at WOW for $16 each

Three Star Owl will be at the Nature Expo portion of the event, held in the Willcox Community Center, which is the headquarters for the festival.  The Nature Expo will be open from Thursday afternoon until Sunday, check my Events page for more specific hours and a link to a map and driving directions.  If you're in the area, please stop by and say Hello — admission to the Nature Expo is FREE!
A word of advice to those planning on visiting: although sunny winter days in this part of AZ can be comfortable, Willcox is at 4200 feet above sea level, so night-time temps usually dip well below freezing this time of year, and if it's windy or overcast, daytime temps will be brisk.  So if you plan to get out into the world on your trip here, dress for the weather!