Days are getting short until Three Star Owl's third appearance at Southwest Wings Birding and Nature Festival, and I'm in a groove, making pieces for the event.  As posted, I've been making mugs, and also owls.  Lots of owls.  Even more owls than usual.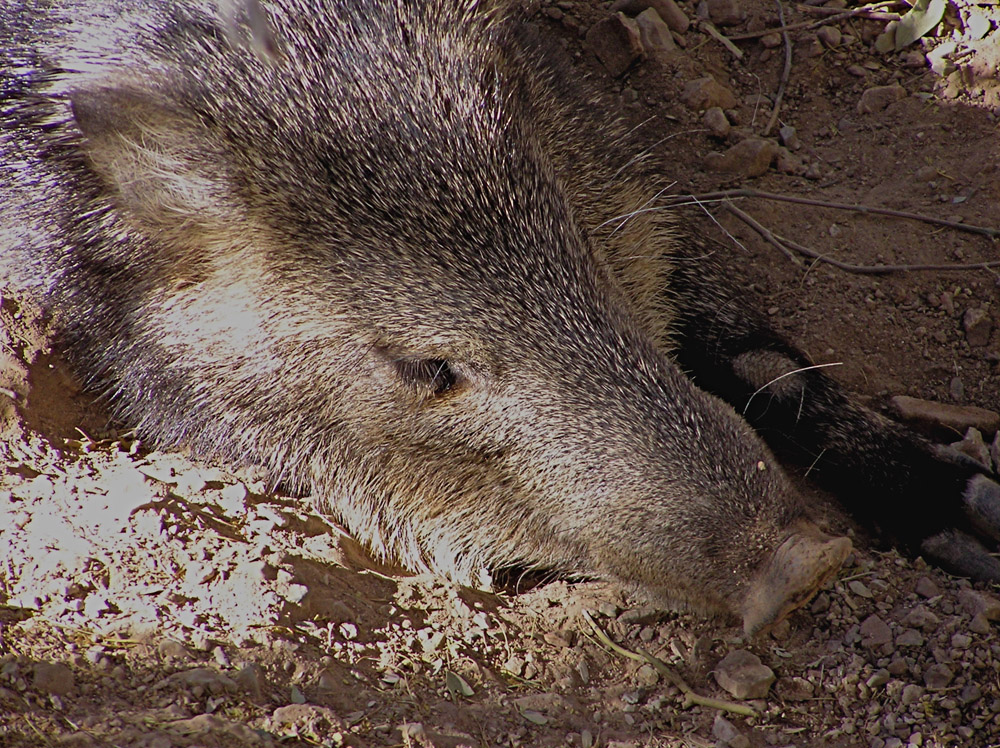 So recently I turned to the hairy side of Sonoran fauna, and have been doing Javelinas.  Javelina items are popular with Three Star Owl clients, both Arizonans and visitors to the desert.  Interestingly, it's often people who have lived their lives in the less urban areas of AZ who are NOT fans of the rooting, tusk-bearing mammal: they may have grown up thinking of them as pesky neighbors, and are weary of battling them over landscaping, gardens, and garbage, or are tired of sewing up the hound.
But in general, javelinas have lots of fans.  I was thrilled when a herd temporarily moved into our neighborhood a few years ago.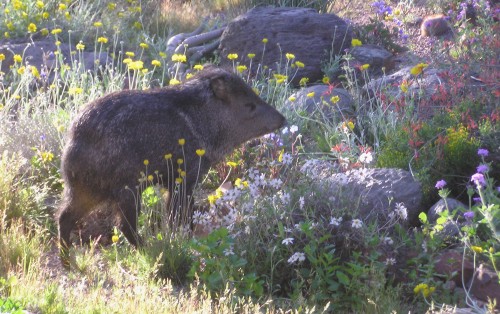 They were flooded out of their usual habitat during a rainy year when the Salt River swamped the Goodding's willow woods growing up in its channelized banks.  They did a bit of damage in yards, including ours, but I also still remember the thrill of hearing clicking sounds coming up the street, and looking up to see a mama with two quite young piglets following her!
Javelinas are not true pigs: they are pig-like mammals in the peccary family, Tayassuidae, and have a New World origin as opposed to pigs and swine, family Suidae, which originated in the Old World.  Our javelinas are also called Collared Peccaries, and live in a wide geographical range and a variety of habitats in the arid Southwestern U.S.  There are three other species of peccary in the Americas, which live throughout Central and South America: White-lipped, Chacoan, and Giant Peccaries.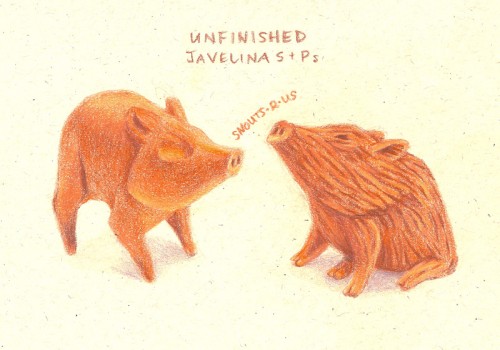 Three Star Owl will be offering Javelina candle-holders and salt and pepper shakers for your table.  Here's a colored pencil drawing of a pair of shakers in progress.  It's not the drawing that's "unfinished" it's the clay objects, which are in two stages of completion, still in wet clay.  One is modeled and textured, the other not yet detailed or textured.  The shaker holes are the nostrils at the end of their snouts, and each one is re-fillable through neat rubber plugs in their bellies.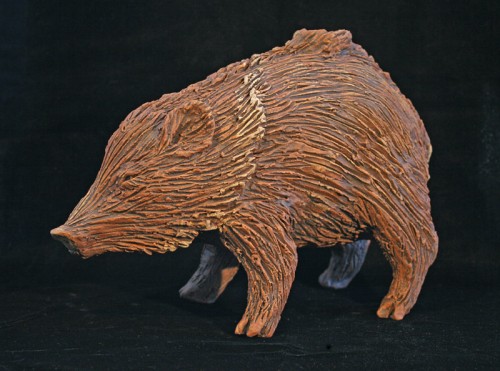 And here is a larger candle-holder, completed. The salt and peppers will have the same coloration, matte slips and oxides, with a little sparkle in the eye.
(Photos: top, javelina dirt-napping at the Arizona Sonora Desert Museum, E.Shock; javelina in our front garden, munching spring wildflowers, A.Shock; colored pencil sketch on recycled, speckled paper, A.Shock; Three Star Owl javelina candle holder, A.Shock)