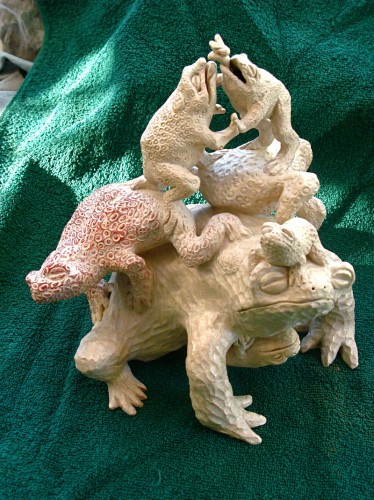 The final increments of the imperturbable Stacked Toad Teapot Effigy (or Toadstack for short) have been completed, and after months of being alternately obsessed on and ignored, left alone and detailed, the piece is finished and ready for its destination.  Here are its last two phases: a final coat of white terra sigillata (super-fine suspension of clay in water), and smoke-firing.
The Toadstack looks bleached because it's had a second layer of terra sigillata brushed onto it, and lightly buffed back, so it remains mostly in the low points of the textures.  Terra sigillata is slip — clay and water and sometimes a mineral colorant — but the clay particles in it are finer than regular slip mixtures, so the surface can be buffed with a cloth or even the fingers to a satiny sheen.  The second photo is for later comparison: it's a close-up of the skin of the red-spotted toad: if all goes as planned, what's white will turn smokey brown-black, and what's red will be a mix of red and black randomly.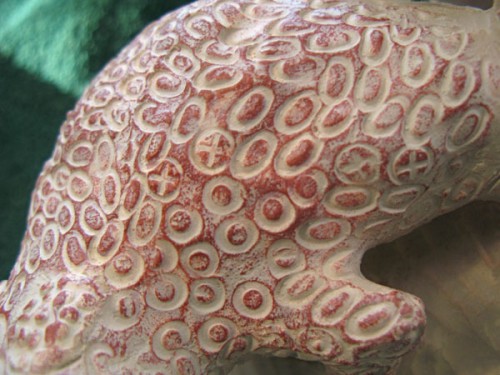 Next the Toadstack is loaded into the galvanized trash can "kiln".  Surrounded by shredded paper and sawdust of two chunkinesses, and some pine twigs and needles from the Hen's tree, it will be completely covered before lighting.  Here in Phoenix you've got to remember to call Maricopa County Air Quality hotline before ignition to make sure there are no wood-burning bans in place, which this night, there weren't.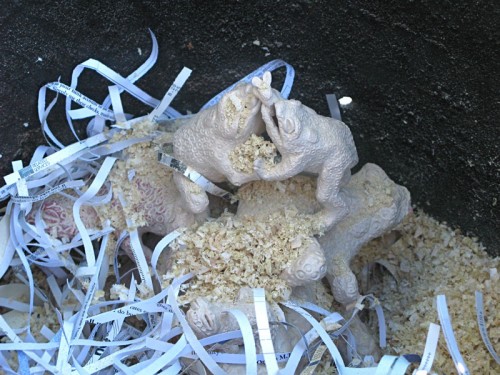 The weather was perfect: cool, and with only a light breeze and no burn-bans, so I torched the can.  The dry combustibles burn fairly fast and sweet-smelling because I use both cedar chips and mesquite twigs from our trees, so within a couple of hours the smoke has dwindled to nearly nothing.  But even after the fire burns down, the heat is still fierce.  If the pieces were to be removed into the cool air they could crack, so I clamp the can's lid on and let them cool overnight.  The next morning I opened the "kiln", and unpacked the pieces.  The kiln fates were kind, and no cracks or other problems found, so the Toadstack was taken inside and cleaned up a bit for photographing.  Here is the comparison close-up of the Red-spotted toad's skin — all is well, and the smoke has made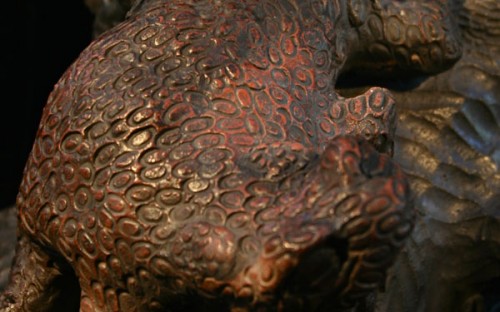 its dramatic and unpredictable changes:
The Stacked Toad Teapot Effigy is destined to be shown at the "Potters as Sculptors, Sculptors as Potters" show organized by St. Louis artist James Ibur at NCECA this year, so it's hardly fair to unveil it before the opening.  The exhibition will be at:
Mesa Community College, 1833 W. Southern Avenue, 480-461-7524.  Navajo Room, Kirk Student Center  Apr 6-11, 2009.  Mon-Fri 9:00a.m.- 5:00p.m., Sat 9:00a.m.- 2:00p.m.
Potters as Sculptors; Sculptors as Potters: artists included are Dan Anderson, Jeri Au, Dan Barnett, Chris Berti, Victor Bassman, Peter Beasecker, Gina Bobrowski, Susan Bostwick, Joe Bova, Andy Brayman, Wayne Branum, Bill Broulliard, Richard Burkett, Doug Casebeer, Joe Chesla, Linda Christiansen, Eddie Dominguez, Renee Deall, Josh DeWeese, Paul Dresang, Rick Dunn, Tim Eberhardt, Shanna Fliegel, Debra Fritts, Gloria Fuchs, Julia Galloway, Pete Halladay, Sam Harvey, Rick Hensley, Jason Hess, Eric Hoefer, James Ibur, Nick Joerling, Steve Lee, Jimmy Liu, Beth Lo, Allegheny Meadows, Ron Meyers, Boomer Moore, Eric Nichols, Brooke Noble, Lisa Orr, Donna Polseno, Liz Quackenbush, Ruth Reese, Dave Regan, Don Reitz, Allison Shock, Chris Staley, Richard Swanson, Kurt Weiser, Matt Wilt, Betty Woodman, Russell Wrankle, and Luo Xioping.  Utility is the core concept of the show: How does a person working in clay approach it if that is the primary focus of their work?  If it is not, how do they perceive function when it is juxtaposed against their non-functional art?  Many ceramic artists explore and/or exist equally in both the world of function and sculpture.  In this exhibition, the artists will be exhibiting work that explores both of these ideas by presenting two pieces of their work.  Organized by James Ibur.
I'm exhibiting two pieces, the Stacked Toad Teapot Effigy (Toadlier than Teapotly), and Venomosity, a Gila-monster inspired Beastie vessel.
There will be a free reception, open to the public, on the evening of Friday April 10, in the Navajo Room (location, above).

Everyone's invited!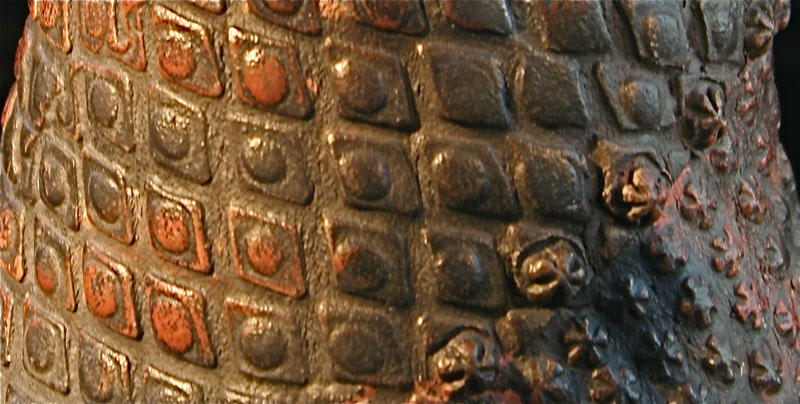 If you can't make the reception at the Mesa Community College, you'll have to wait for one Final Increment on this website…  Until then, here is a sneak preview of Venomosity ➤➤