…and other creatures of shift and change.
The day began with a coyote, and an oriole. The coyote we encountered in front of our house, at the start of our early morning walk toward the neaby desert park. It was on its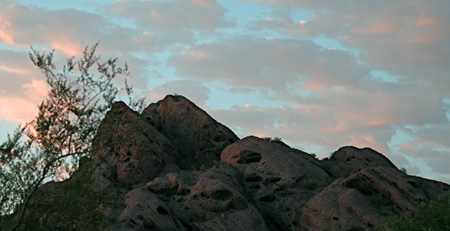 end of the day commute — on the way from our street where it had likely been marauding for spare cat food and spare cats, back to the neighboring butte <<, where its family lives. This time of year the desert dogs are very much in evidence: the butte "goes off" every time a fire engine roars up the surrounding streets, especially in the early or late hours of the night. In the dark the porous rock seems to emit howls and yelps of a number of coyotes, and sometimes the yips of a local gray fox or two.
The cheeky Bullock's oriole we saw as a brilliant orange flash overhead against the early blue sky, is also a migrant, headed to its breeding grounds uphill from the low desert. This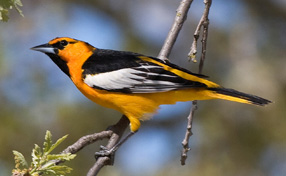 bird might have been close to the end of its journey to cottonwoods somewhere in one of the riparian corridors of Arizona's mid-elevation waterways and lakes, like the Verde Valley or Lake Roosevelt. It flew scolding out of our palo verde and we didn't see it again. (Photo of male Bullock's oriole by Kevin Cole from Wikipedia Commons)
The day ended with migration, too, but of a different sort. Friday night Three Star Owl was part of a trunk show hosted by Tuttibella Designs (thanks Teresa!), and during the evening, several items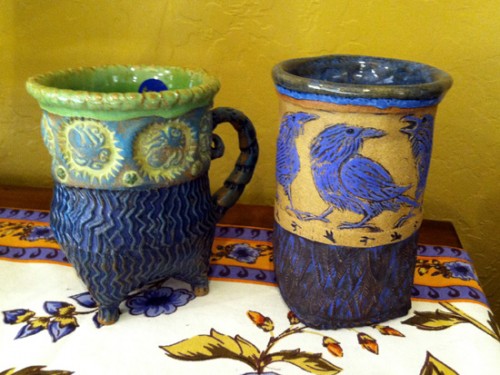 migrated away from the home territory to new nests: including an owl jar with a continuously swiveling head, a blue raven mug, some hummingbirds-of-AZ-ware, and an octopus mug. May they bring their new caretakers much pleasure!
>> Three Star Owl Beastie Ware (iPhone photo & mugs, A.Shock)
Finally, in a true stretch of the migratory theme that also has to do with acceptance, Three Star Owl has finally wandered into the milling herds of merchants who take credit cards. This has been a grudging and lengthy journey with what I hope will be a satisfying and stable ending, in which submission to technology and its costs brings benefits to everyone. And fortunately, so far, so good!