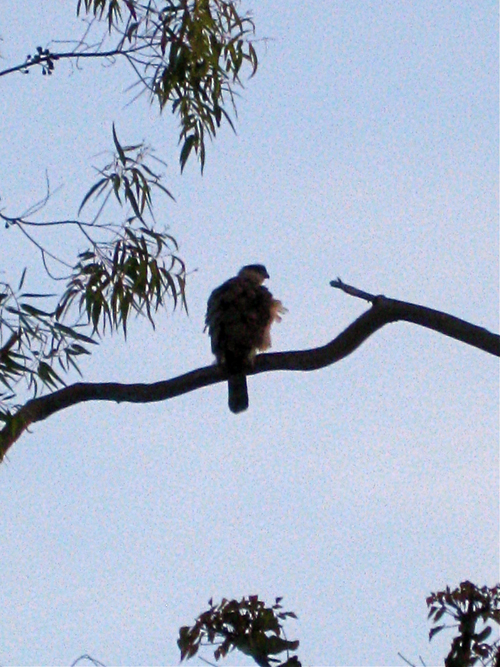 …by the dawnzerly light?
<< Here's one of the local Cooper's hawks preening in the pre-dawn light above my tent "office".  Every morning at EXACTLY 5:48 by the alarm clock, the pair begins their day by skrekking KIK a couple of solo kiks, then rolling out a long stream of duo kik kik kik kik kik kik kiks.  But the crows are up a few minutes earlier, also clacking and giving their hollow caws. (Side note: crow is okay, but raven is better, if you're lucky enough to live where it live.  I missed raven when we lived in St. Louis, although there there are two species of crow, American and Fish;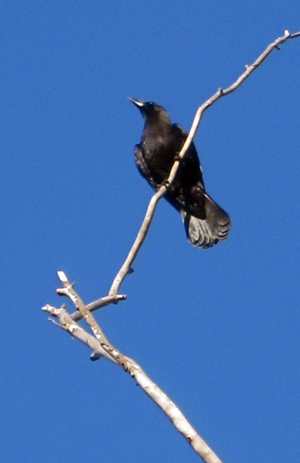 it almost makes up for being ravenfree).  The crows are nesting too, and fly into the palms with beakfuls of sticks.
American crow (all photos A.Shock, click to enlarge!) >>
I haven't had a chance to bird the campground systematically, but casual encounters besides crows and coop's are yellow-rumped warbler, a common yellow-throat who sings every morning on the other side of the fence, mallards who stroll about the campsites like cats, snapping up dropped hotdog buns and popcorn, a white-crowned sparrow or two,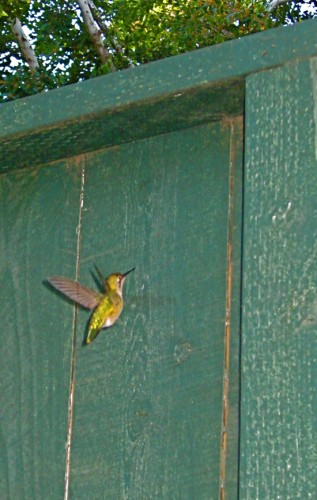 ruby-crowned kinglets scolding fussily overhead, and Anna's hummingbirds, a hen of which kind was moments ago diligently gathering spiderweb from the plank fence just feet from where I'm eating breakfast.  She took her time — eventually I got the photo on the left. <<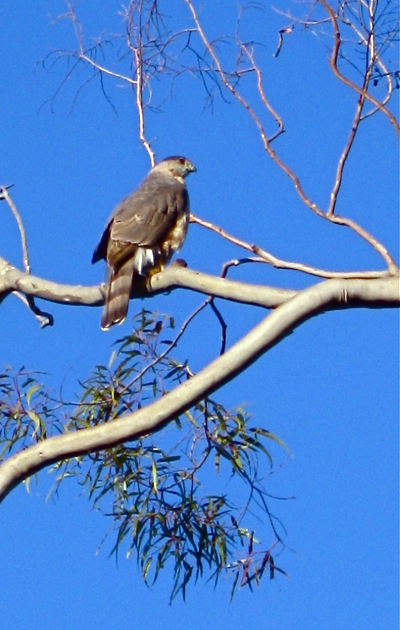 >>Cooper's hawk in the morning sun.  It was being hassled by the crow above.
Today I'll be at the San Diego Audubon Festival at the Marina Conference Center on Mission Bay from 11am until 5pm, or maybe a little later.  If you're in the vicinity, come on by: there's still both beastie and wazzo wares to check out, and other artists and exhibits to enjoy!