This is the little white booth in the desert.  It's Three Star Owl's show tent, currently set up in the backyard for the Camelback Studio Tour and housing an ever-decreasing number of objects.  It's great fun to have people drop in and peruse the selection, marvel at E's epic number of specimen cactus and succulents, and maybe go home with a rαt-dog or a beastie mug.  And it's fun to talk to folks, too, friends and strangers alike.  During the last couple of days, I've referred people to Mike Cone for cool cactus pots (mysteriously, I don't have any for sale, currently), recommended the book "Desert Gardening for Beginners" from Native Seed Search, and talked to a man who used to work for the Pomona Tile Company in LA and who said he'd lost track of how many times he'd had lead poisoning — "you wait for the symptoms to go away and drink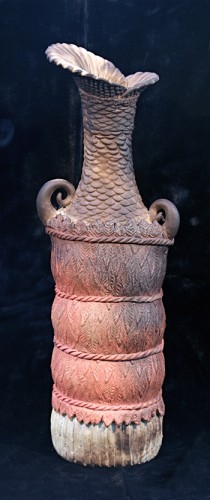 lots of milk" !!  (Just FYI, most contemporary potters, and certainly anyone making functional ware, don't use lead in their glazes anymore, but lead compounds make beautiful colors.  They were used in ceramic glazes worldwide for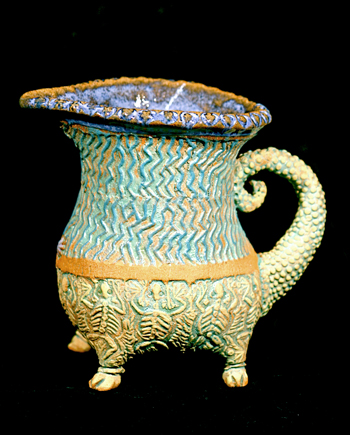 thousands of years, and in the U.S. until the 1970s.)
Lots of pieces have found new homes, but there are still great items left.
<< Here's one "Neither Fish Nor Fowl Tentacle Bottle".
Also, this, a frog skeleton beastie creamer, about 4″ tall  >>
You can drop by Sunday, 10 – 5. Admission is free.  The open studios are artists' homes in the Sherwood Heights subdivision of southern Scottsdale, between 56th Street and 60th, and Thomas and Oak.  More info here.
Also, we've got a 5.5 lb container of Red Vine licorice that needs desperately to be shared!