Three Star Owl is proud to be part of the South Scottsdale Art Alliance's

Camelback Studio Tour

next Friday Saturday and Sunday, 25, 26, 27 Feb, from 10am – 5pm, and you're invited!
<< detail, Greenish Beastie Pitcher, breast "plumage"
Several homes in the "we could have been but we voted not to be" historic neighborhood of Sherwood Heights, in what the sensitive prefer to refer to as "Original Scottsdale" between 54th and 60th Streets and Thomas and Oak, will be hosting more than twenty local artists in a variety of mediums on these days.  Everyone is welcome —  it's free and it's fun.
Three Star Owl (Studio 4) will have a small but pithy assortment of sculptural and functional clay items for sale (as they say, come early for best selection!), and throughout the weekend, I'll be demonstrating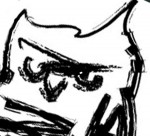 hand-building techniques in my tiny and ramshackle studio space.  (And the always business-minded Cranky Owlet would like to remind potential shoppers that cash and personal checks are always welcome, but Three Star Owl is not set up to accept credit cards).
For more information and directions, click HERE, and click here for a map.  There will be signs around the neighborhood directing you to each host home.  If you have any questions or need further information, please don't hesitate to contact Allison through this website's Contact page.
Hope to see you there, rain or shine!