This is the week of the San Diego Birding Festival at the Marina Conference Center right on Mission Bay.  The keynote speaker will be David Allen Sibley, the artist and author of the Sibley field guides to the birds of North America,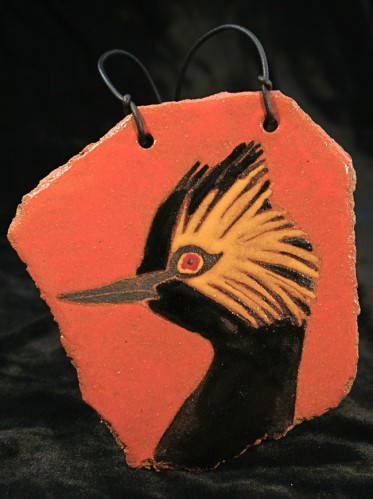 which are considered some of the top field guides available.  Many of the field trips are full, but there are spaces left and last-mintue cancellations, plus there's lots to do at the Festival besides field trips: lectures, workshops, local self-guided birding, and shopping — come by Three Star Owl and say Hi!
I've got the usual assortment of owls, non-owl birds (!), and reptiles, plus I've included some coastal and California species for the occasion, like the Eared Grebe hanging tile pictured here.  Also, this show marks the West Coast debut of "rat-dogs" — generic mammal-form pieces that look like they might bite, or communicate a disease.  Take one home if you dare.
For more details, see here and here.