The last pieces for Three Star Owl's Southwest Wings Birding and Nature Festival date slid into the kiln thursday, so no more pinching, coiling, stamping, slipping, scoring, or glazing nares, coverts, hooves, beaks, talons, or TOES again, until after the event.  Meanwhile, here's a peek at a few things lurking informally around the studio now, waiting to be photo'd, priced, and packed: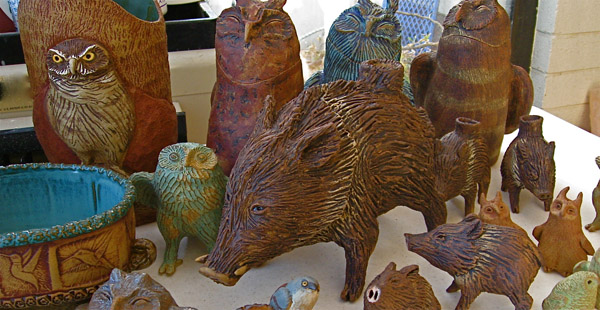 New for this event are Javelina salt & pepper shakers and owl whistles.  And there's a Plethora of Owls in all forms this time, even more than usual.

The Festival is in Sierra Vista (Arizona) at the Windemere Hotel, 5 – 9 August — that's next week.  If you'd like to drop in, the vendor's hours are: Thursday, August 6, 10:00 a.m. to 8:00 p.m.; Friday, August 7, 10:00 a.m. to 7:00 p.m.; and Saturday, August 8, 10:00 a.m. to 6:00 p.m.  Admission is FREE to the vending and exposition area in the hotel Lobby and Conference Rooms.  And, there's still some room in several of the birding and natural history field trips, too.  Come by and say Hello!