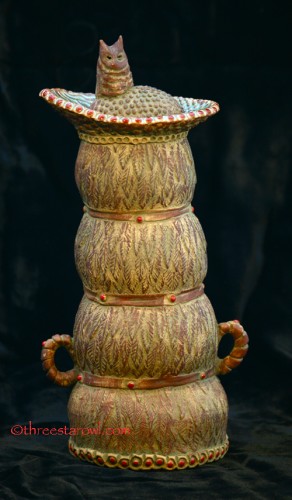 It's time for the Verde Valley Birding and Nature Festival, and Three Star Owl will be there in the big white tent, along with other vendors and exhibitors Thursday 28 April until Sunday 1 May, 9 – 5 Thu-Sat, 9 – 1 Sun.  Dead Horse Ranch State Park, Cottonwood, AZ.

Come on by and see what's new!  The event is free, but a park entry fee may be required, although they may waive it for the Festival.
Click here for more info and directions.
Hope to see you there!
<< the Bundle-feather jar with Owl finial will be there (stoneware, 10.5″, A.Shock, 2011) And, definitely click to enlarge to see piece in truer, richer, color.