For those of you who follow Three Star Owl clay studio, I've just updated the Events page — it had been neglected, I'm sorry to say — to reflect upcoming shows and sales.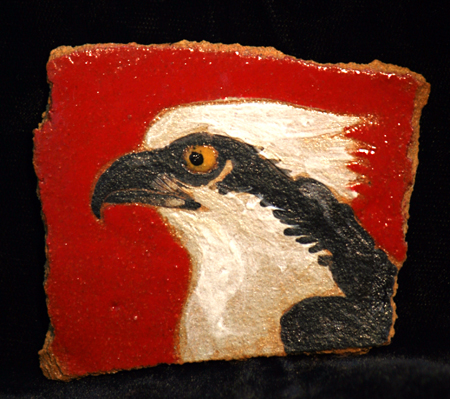 I announce them here, but the Events page (click on Events tab on the bar at the top of this page) will take you to what's in store for the future with one click, with dates, times, and links to the sponsoring Festivals, if appropriate.  A few past events are included, too, at the bottom.
>> Osprey magnet (stoneware, 2.25″X2.25″ $16, A.Shock)

The next bird-related event for Three Star Owl will be The Verde Valley Birding and Nature Festival, at the end of April, in Cottonwood, AZ, affectionately known as "Birdy Verde", or, sometimes, accidentally, Verde Birdy.  Now, you can check the Events page to see exactly when!