The Owl Hives are in Chandler.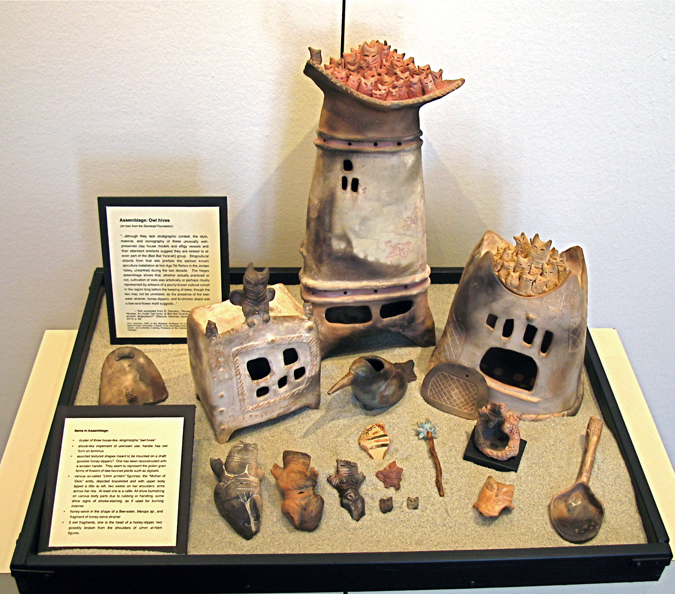 On Friday night, March 18, the All AZ Clay Invitational Exhibition opened at the Chandler Center for the Arts, displaying the work of more than 40 clay artists from all over the state of Arizona.  Among them is an installation of artefaux by me, entitled Assemblage: Owl Hives.
>> Assemblage: Owl Hives (photo and piece, A.Shock 2011)

The piece is composed of a variety of related, archeologically-themed elements, and is intended to be viewed on its own æsthetic merits.  But, if you read this blog regularly, parts of the installation will look familiar to you, since I've posted bits and pieces of it before, in progress.  Also, in the Assemblage, you may recognize a tie-in to the fictional posts that appear here irregularly: according to the signs, the piece is purported to be on loan from the august but mysterious Ganskopf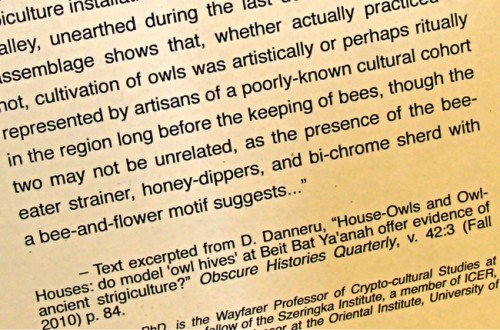 Foundation.  In addition, the ubiquitous and insinuating Dr. Darius Danneru has graciously provided an excerpt from a recent article, supplying authoritative and scholarly, if prolix, context for the piece.  <<

I hope you can stop by the Chandler Center for the Arts' Vision Gallery anytime before April 16, when the show closes, to see what the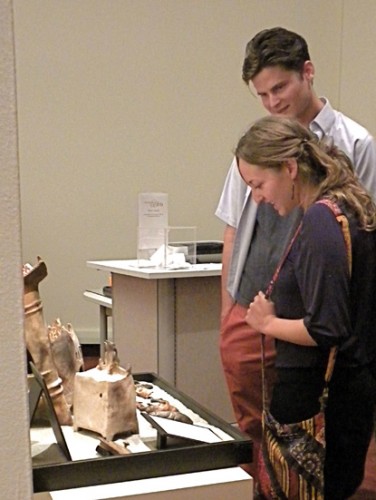 Arizona clay community is up to, including three pieces by Don Reitz, from the CCA's collection.  More info below, or click on Three Star Owl events.  (Photo E.Shock>>)

Exhibition Dates, Hours, and Location:
March 18 – April 16, 2011
Vision Gallery Hours: Monday – Friday, 10 am – 5 pm, Saturdays, Noon – 4 pm
at: Chandler Center for the Arts
MAP/Directions
250 North Arizona Avenue
Chandler AZ 85225
For more information call 480-782-2695.