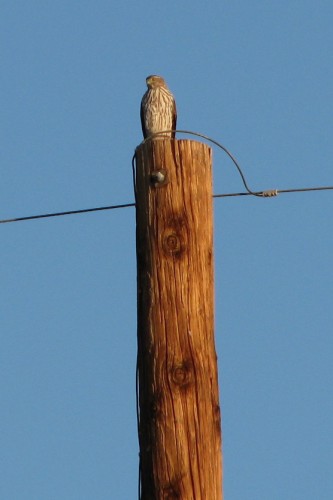 …is bent on both mayhem and mischief.
She was lurking at the north entrance to Papago Park early Saturday morning, in the low spot where the White-crowned sparrows, House finches, and Mourning doves are usually found in great numbers on chilly winter mornings.  She even swooped over our heads on her way up to the top of the utility pole.
(Right, first-year Cooper's hawk in Papago Park, Accipiter cooperi; photo E. Shock)
But just after E snapped this telephoto, the Coop's glimpsed more grandiose prey: she started the sparrows, but flew right over them.  I can't say I've ever seen a bird-specialist like a Cooper's hawk chase a full-grown Black-tailed jackrabbit, but this bird did, and kept after it for ten or twenty seconds, as the jack zigged and zagged evasively until the Cooper's pulled up, empty-fisted.  What do you suppose she thought she was going to do with it if she caught it?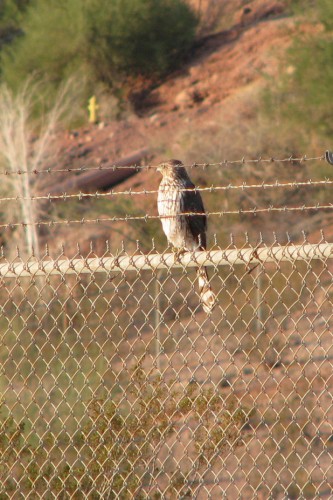 She either had an inflated idea of her own skills, or was a very hungry bird: no matter how spry a flyer, she can't have been that good a footer!
(Note: Cooper's hawks weigh 8-21 ounces, and jacks weigh 4-6 pounds!)

This hawk was bent on causing trouble: here's a picture of the same bird a few minutes later, on the felon's side of the fence, trespassing on clearly signed military property.  Scofflaw!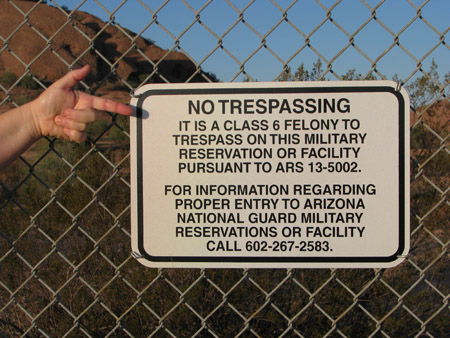 (All photos E.Shock)
Click here to view another picture of an immature Cooper's hawk in Papago Park that E took this spring.