Recently a neighbor came across the street to tell me in a concerned way that she had "had to" kill not just one but two non-venomous coachwhips in her yard out of fear for the safety of her pet, a feisty little terrier whom no self-respecting coachwhip would allow near enough for trouble.  So it was very good to discover that "our" coachwhips on this side of the street, whom we see with some frequency, had managed to reproduce, to help offset the unnecessary slaughter.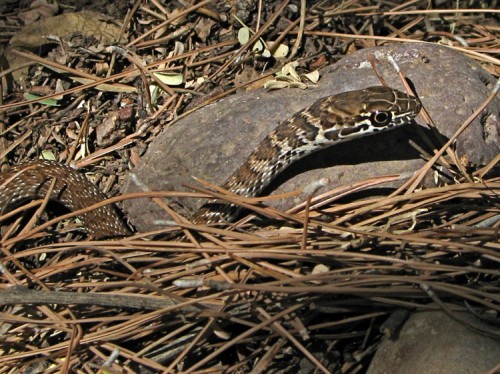 This handsome youngster and I surprised each other under the hummingbird feeder in the palo verde, and it held still enough for long enough that we were able to get some photos.  I suspect it was after young Tiger whiptails, among other things, as they're still out and about (the larger adults seem already to have retreated to their subterranean refuges for the season, for the most part).  In fact, nearby on the same day, quite a young whiptail was chasing small ants with gusto.  It no longer sported its blue tail, but had the slim body and large-headedness of a young reptile.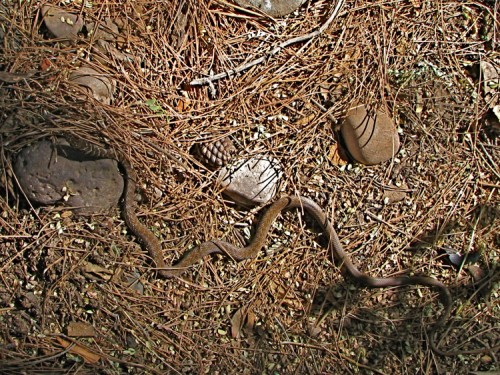 Coachwhips (Masticophis flagellum) lay their eggs in June and July, and the young begin to maraud in August and September.  So this well-camouflaged youth is probably a month or two old, and already a whippy thin 13 or 14 inches in length.
"When frightened it flees so rapidly it appears to magically disappear into the desert," say Brennan and Holycross in their excellent 2006 Field Guide to Amphibians and Reptiles of Arizona.  And that's exactly how this encounter ended, when the little snakelet finally decided it was time to vamoose.
(Photos: Top: A.Shock; bottom, E.Shock)