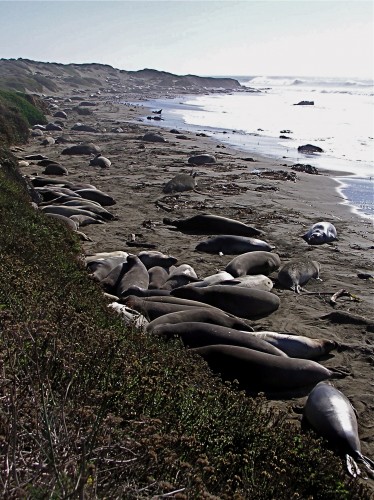 After the family Christmas gathering, E the M and I made our way down the California coast towards the M's house.  Every few years we find ourselves doing this, stopping sometimes in Santa Cruz, sometimes Big Sur or Davenport, but more than once in Cambria.  The twee shops in the village don't draw us as much as the surrounding coastal landscape, gentler and less remote than the raw edge of the Big Sur coast (that jagged and temporary fringe of an entire continent): it's less dramatic but more accessible.  Humans are not the only organisms to find this coast attractive: Sea otters, harbor seals, dolphins, and gray whales can readily be seen in season in these waters; also, northern elephant seals.
In our long ago years at Santa Cruz, E and I would visit the elephant seal rookery at the point Año Nuevo, in those days the only place the enormous pinnipeds were known to haul out on the mainland.  The visit involved advance reservations and a naturalist-led slog through seal-festooned dunes to a viewing point looking down on the rookeries and the island lighthouse of Año Nuevo, in which, the story was told, the lighthouse-keeper's claw-footed bathtub still contained the skeletal remains of an elephant seal that had crawled into it to die.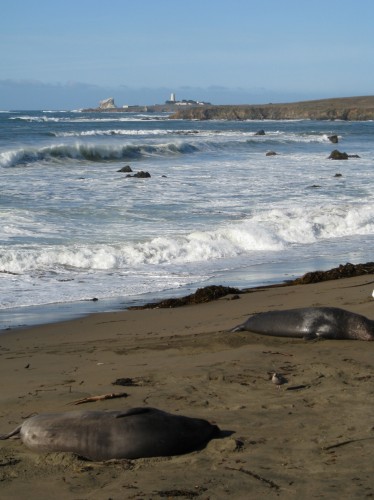 So, imagine our surprise when we pulled off from Hwy 1 to hike a bluff trail just north of San Simeon — a hundred miles south of Año Nuevo — and looked over to see a heaving heap of snorting, snoring blubber, jostling and making the same distinctive bladdery croaking sound (described as a Harley starting up in a gymnasium, listen here: 02-alpha.mp3) that we remembered from the rookery north of Santa Cruz.  Since 1990, Elephant seals have colonized the narrow strands stretching south of Piedras Blancas lighthouse, and each December, they return to give birth and mate on these beaches.  Viewing them is easy — a couple of  parking areas have been built atop the bluffs along coast Hwy 1, and low-visibility fences are in place to separate scarred, cantankerous males from pesky human voyeurs.  By mid-December, bulls have staked out their section of beach, and cows are lying about in harems.  The real draw, though, is the young of the year: wrinkled black-furred seal pups lying at their mothers' side, chirping and bawling until she rolls over to expose a teat, or, rather, a slot where the teat lurks.
We've never been lucky enough to see an actual birth, but we've seen such newly-born pups that gulls and Brewer's blackbirds were still fighting over afterbirth among the sandy heaps of seaweed. Last year 4000 pups were born just in the Piedras Blancas rookery, and they're expecting similar numbers this year.  The density of seals is astounding: in addition to hefty 1600 pound cows, massive 4500 pound bulls, and an assortment of bulky young males, there are piles of blond yearlings lying about in the dunes, snuffling and spraying briny snot on one another, occasionally engaging in mock baby-fights, baring their teeth and striking at each other in practice territorial behavior, then falling back into a doze piled together in heaps like bleached drift logs.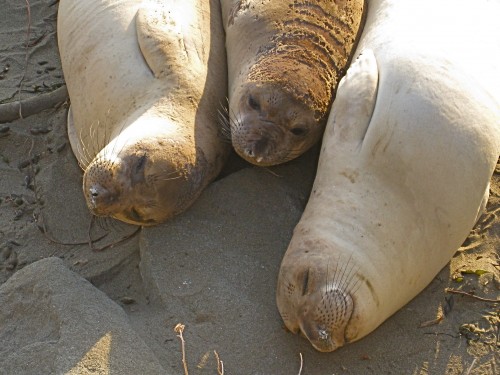 For those of us less inclined to gawk at the unnatural concentration of the world's riches crammed into William Randolph Heart's folly (the ersatz Moorish castle overlooks the rookeries), the Piedras Blancas elephant seals put on a different type of oversized spectacle.  Check out the website of Friends of the Elephant Seal for more info and images.
A tip to would-be visitors to Piedras Blancas Rookery: Because viewing access is easy here, there are lots of people, and parking can be problematic.  So, go early (before 10am) or late (after 4 pm, and sunsets can be spectacular!).  Or, visit alternate viewing sites along the same coastal bluffs, where you will see fewer seals, but fewer people, too.  For a less drive-up experience of the seals than at Piedras Blancas, take a hiking tour out to the rookery at Año Nuevo, but don't forget to get advanced reservations for peak breeding months (Dec -Mar).
By the way, if curious architectural follies of eccentrics do appeal, drive by the eclectic Nitwit Ridge in Cambria, in disrepair but surprisingly resonant with Hearst Castle.