There are places like this in the garden and around the house:
Laissez faire places, where neglected green wagons fill with garden miscellany, well-worn gloves are left out in the dust, empty peach flats perch forlornly on footstools. These neglected corners are golden places — especially in spring, when things are looking for private spots to nest. The three opportunities above were discovered by hens of one sort or another, females looking for somewhere to hole up with their young, to tuck in their larvæ, to get uninterrupted rest.
<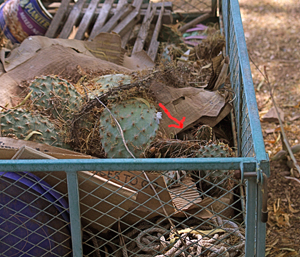 < Nid the First.  The small red arrow points to where a Gambel's quail hen has been sitting tight in the debris in our garden wagon for a few days.  She's easier to spot in the photo below, a tight telephoto of her wary eye from the same angle.  I wish her luck: although she's well-hidden from bumbling humans, we're not sure how the youngsters will find their way over the sides of the wagon once they hatch.  We have a policy of non-interference in these circumstances, but at some point, a ramp may have to be constructed.  Update: while the hen was away briefly, it was possible to count 9 eggs in place.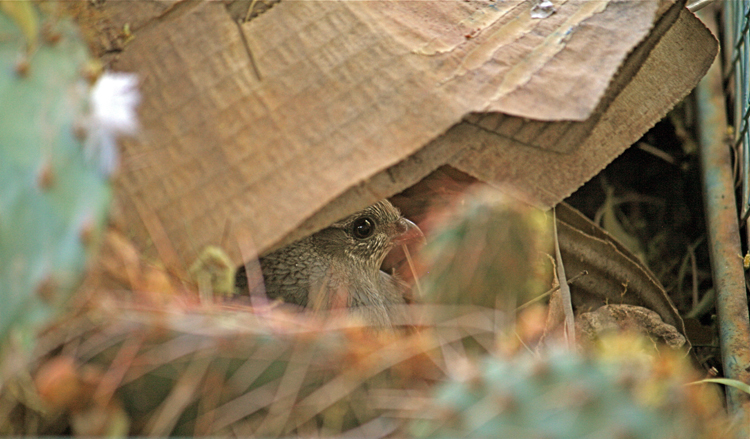 Nid the Second.  In the desert, it's advisable to always look into a shoe before slipping your foot in.  The same goes for gloves left outside for a week: E tried to put on a work glove this morning, and found that his fingers didn't go all the way in.  Looking inside, he discovered that a female leaf-cutter bee had found the interiors of the stiff leather fingers just right for stashing her eggs (along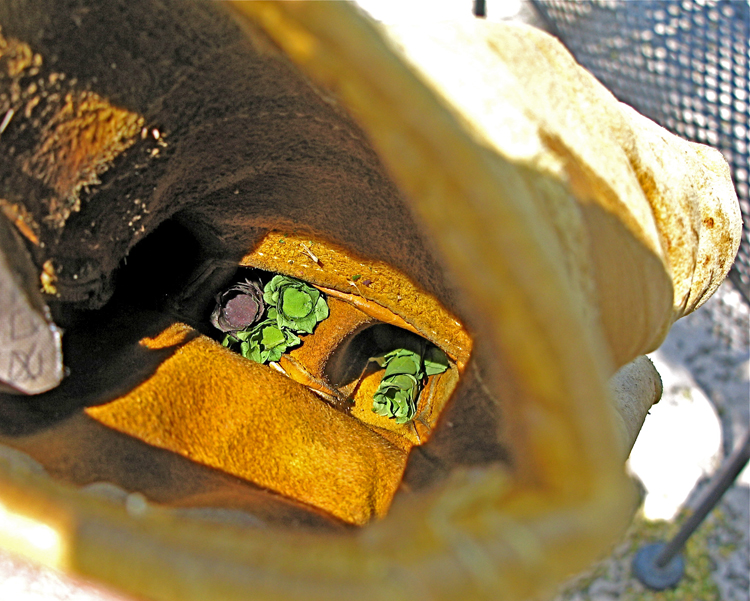 with food for the eventual larvæ) between individually-constructed layers of soft leaves — three green tubes and one purple.  The colors of the tubes depend on the bee's plant selection.  A spare pair of gloves in the garage that no one was using enabled E to get the yardwork done, and the nest-glove and its contents were left to hatch or be scavenged.
Nid the Third. The final nesting location is more domestic, and will not be news to anyone with cats: it's the simple miracle of a box spontaneously generating a cat of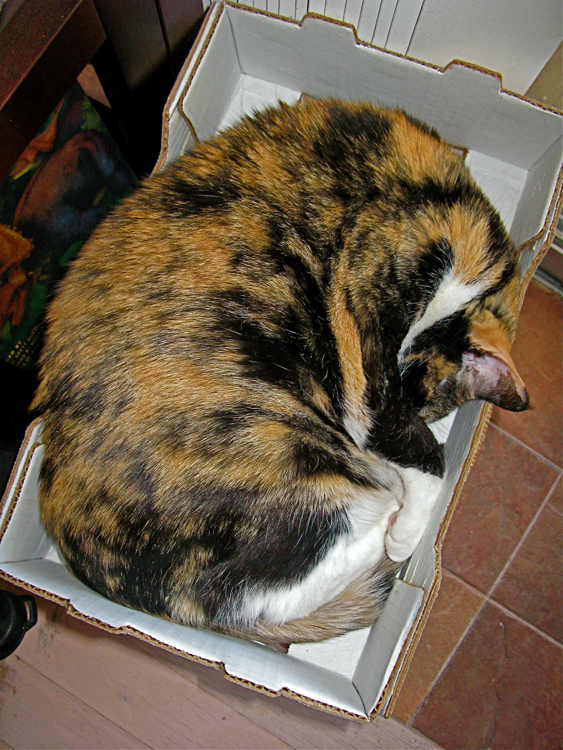 precisely equivalent volume.  Here Miss B has condensed in the peach-flat we call the "Summer Palace" since it sits by the sliding glass door, allowing the sights and smells of the back yard to be taken in at leisure, even in sleep.
With all of these casual nesting choices being made in objects intended for another purpose, I'd like to point out the irony of the fact that the deliberate, pricey nest box we set up for woodpeckers and/or screech owl is unused, so far.  Of course: it's the wildlife correlation to kids ignoring the toy, but playing with the box it came in.
(All photos by A.Shock)