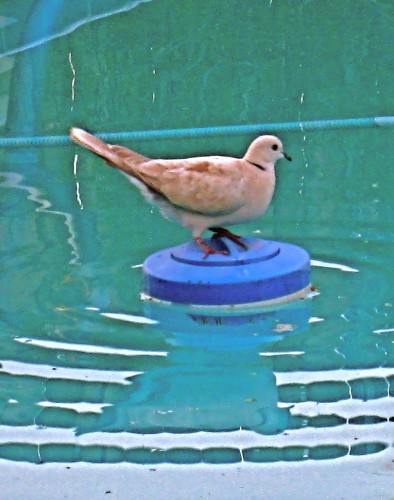 Hoover the feral African collared dove has solved the problem of how to drink from the swimming pool: board the chlorine float.  The health ramifications of this (for the bird) may be dubious, but watching him neatly land on a floating, bobbing object with a smallish deck area is a thing to behold.  He fastidiously holds his tail up off the water, and bends over to drink, tipping the float steeply, but he still manages to hold on.
<< Hoover afloat (photo A.Shock)
We've seen other urban birds, most often Great-tailed grackles, a fearless, strong, and adaptable species, do the same thing.  They will also swoop low over the pool, and nimbly scoop meaty yummies like moths and beetles off the surface, risking becoming swamped if they make too much surface contact.  But we've never found a grackle in the pool, so it's a successful foraging strategy for them.