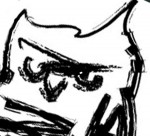 [Updated 6 July 2014: I understand the urge to point out that spiders don't chase people in swimming pools — the scenario seems unlikely, I agree. But with a gremlin looking on, who knows what curious occult forces were at work? Better?]
The grainy photo below clearly shows a small gremlin in our pine tree (possibly the same one as here). It was making a soft tooting call that sounded exactly like the so-called "bouncing ball" call of the Western Screech-Owl.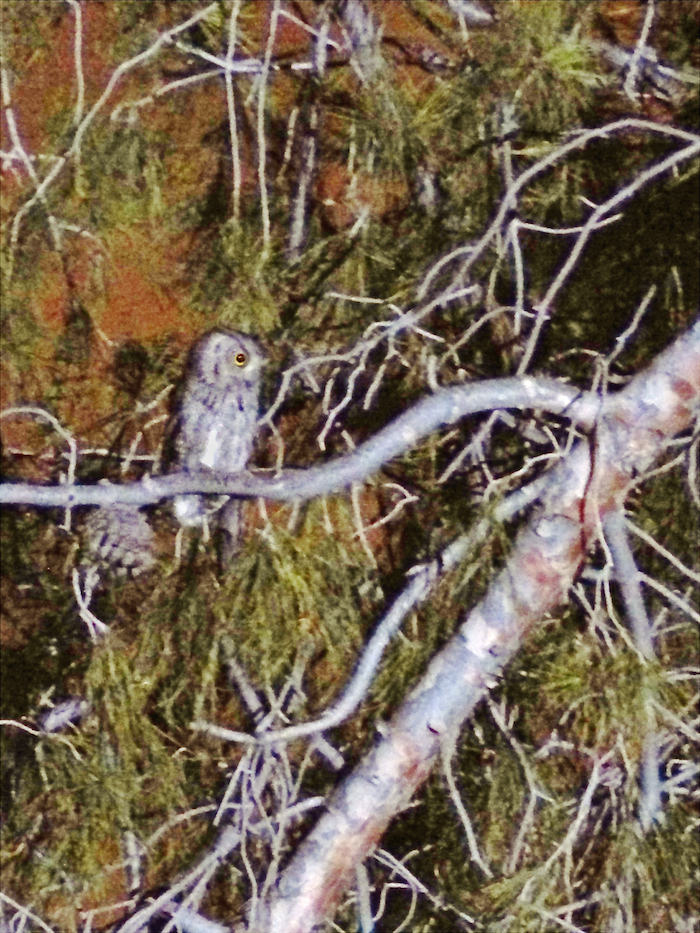 If I hadn't captured the gremlin on camera, its clever vocal efforts to blend with the local avifauna would have been successful: in the dark, we would have assumed it was one of our local Screech-Owls, which are common in the yard, and which we've seen many times.
<< (Photo of Western Screech-Owl exhibiting HCQ — High Cranky Quotient — taken in ambient light with pinecone for scale, A.Shock 4 July 2014. You may click to enlarge, but it doesn't get any better bigger.)
In this picture, the malevolent entity gazes down disapprovingly, caught in the act of watching the Six-Spotted Fishing Spider chasing me — deliberately, I'm positive, and E will back me up on that — around the shallow end of the pool by skittering energetically and leggily across the surface towards me, repeatedly. The gremlin's impersonation of a Screech-Owl is nearly perfect down to the tiny fierce talons grasping the branch, although IMO it needs to work on the "ear" tufts, which are frankly weak.
Bonus quote:
"He only has one eye!" — Peter Lorre, Beat the Devil (John Huston, 1953), on seeing a portrait in profile