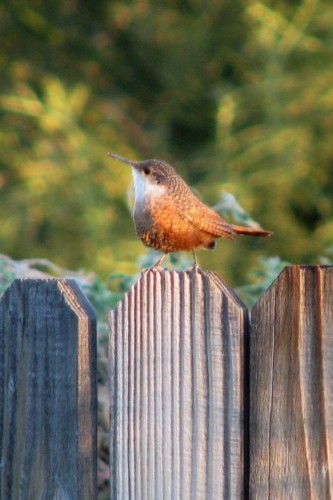 There are wrens in our desert world. Big, raucous, busy Cactus wrens are always here. And there are wrens that pass through: eye-browed and long-tailed Bewick's wrens in spring and fall; a Rock wren usually comes around a few times in the winter, and even a House wren once, on its way to its breeding grounds uphill from here.
Today we had a new-for-the-yard visitor: a Canyon wren "jeeting" around on the back porch. It was early morning, and we were up for our Papago Park walk, but before we left I spotted a small dark form flitting in and out of small spaces under the bentwood rocker. At first I thought it might be a rodent, but after better looks, it proved to be a Canyon wren, its cinnamon and gray back and white throat clear even in the early light. It was actively foraging first on the canes of the chair, and then between the flower pots by the pool.
Canyon wrens live in arid places, but usually not in lowland deserts. They are characteristic denizens of precipitous canyon terrains in higher elevations, like the Mogollon Rim or the Grand Canyon, the Superstition Mountains, and such hard-surfaced vertical spaces as those, where their clear descending call rolls down the rock, and absolutely means "Desert Mountains" to many of us who live or visit there. Perhaps there's a downward movement of a small percentage of the birds from higher elevations for winter, so some birds must pass through occasionally, but it's a bird we've neither seen nor heard in our yard before, nor in Papago Park, where the buttes provide habitat more like what it would naturally occupy.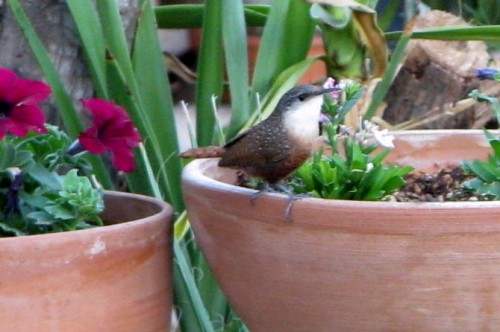 Canyon wrens are structurally specialized for probing stony crevices for delicacies: their bill is long and straight, and according to Sibley, their spine is attached to the skull at the back, instead of from underneath, which gives the small bird both maximum probing capacity and a nearly constant upward-tilt to its head.

Amazingly — it's a very active subject — E managed to get these two photos of this morning's bird, a bit blurry but very identifiable. The last we saw of it was its little rusty tail disappearing into the dark spiny interior of the Mexican fan palm. Then we lost track of its "jeet" call, and we didn't see it again.
For the record, this week in October seems to be one each year when it's possible to find species on the move: last year, this was the part of the month when an Ovenbird, a tiny, unexpected out-of-range thrush-like warbler made a brief appearance under the backyard mesquite, as if it belonged there. White-crowned sparrows have also recently returned for their winter stay, making themselves known by their characteristic and pleasing song, along with the male Red-winged blackbirds, who trickle in a few at a time and stay until spring.
To hear a Canyon wren sing go to ASU's Ask a Biologist and under "Sound files" click on "click to open" then click on the right-pointing triangle to play.
Photos by E. Shock.