The young peachy person shown below has been hanging out in our Old Scottsdale yard, eating seed-fluffs off of Creosote bushes. It's a Rosy-faced Lovebird (Agapornis roseicollis, formerly known as the Peach-faced lovebird) with naturally-occurring variant plumage called "Lutino". The image inset bottom left shows a bird with the standard "wild" coloration, also photo'd in our yard.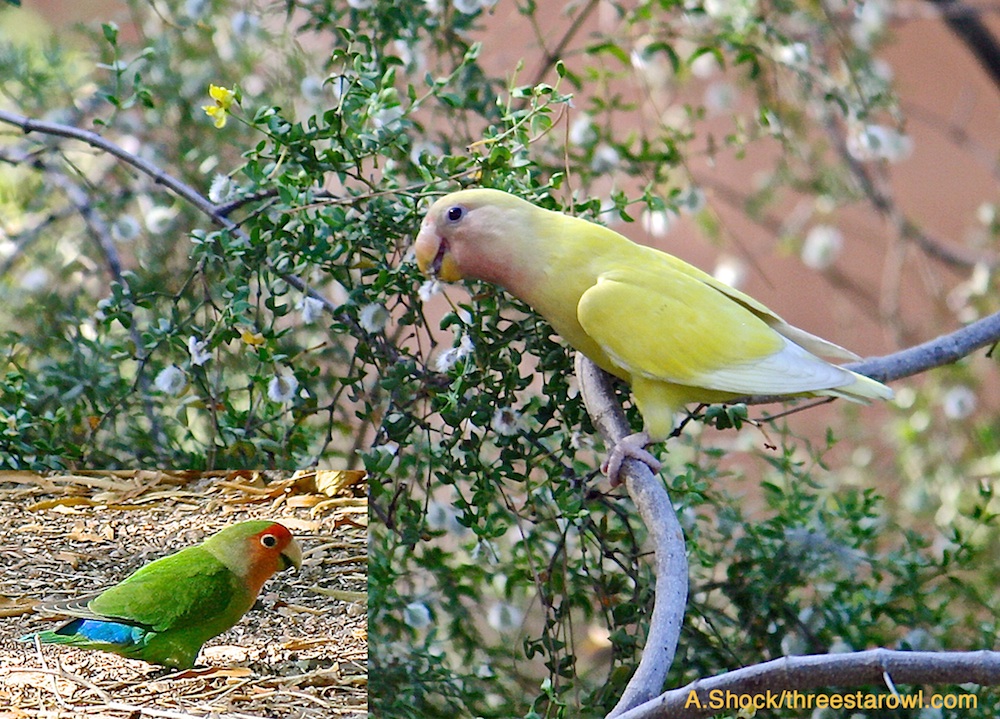 Rosy-faced Lovebirds have been naturalizing themselves in the greater Phoenix area since the mid-1980s, and are probably the descendants of escaped pets. For the full story, read Kurt Radamaker and Troy Corman's excellent account on the Arizona Field Ornithologists website.
This lemony youngster flies with two "normal"-plumaged individuals, presumably its parents. Although it doesn't show in this photo, the bird has a few reddish feathers coming in above its beak, the first indication that it will soon sport a coral forehead. Breeders offer this azureless color variant under the name "Lutino", but the fact that this bird is a youngster suggests that it hatched ferally, and is not an escaped pet.
Update: with a bit of further research, I turned up some info on Lovebird genetics. The Lutino plumage is a sex-linked recessive gene, which means that with two visually "wild"-plumaged parents, a visibly Lutino offspring is always female — our little Lutino is a Lutina.
Variations on a lovebird theme (photos A.Shock)