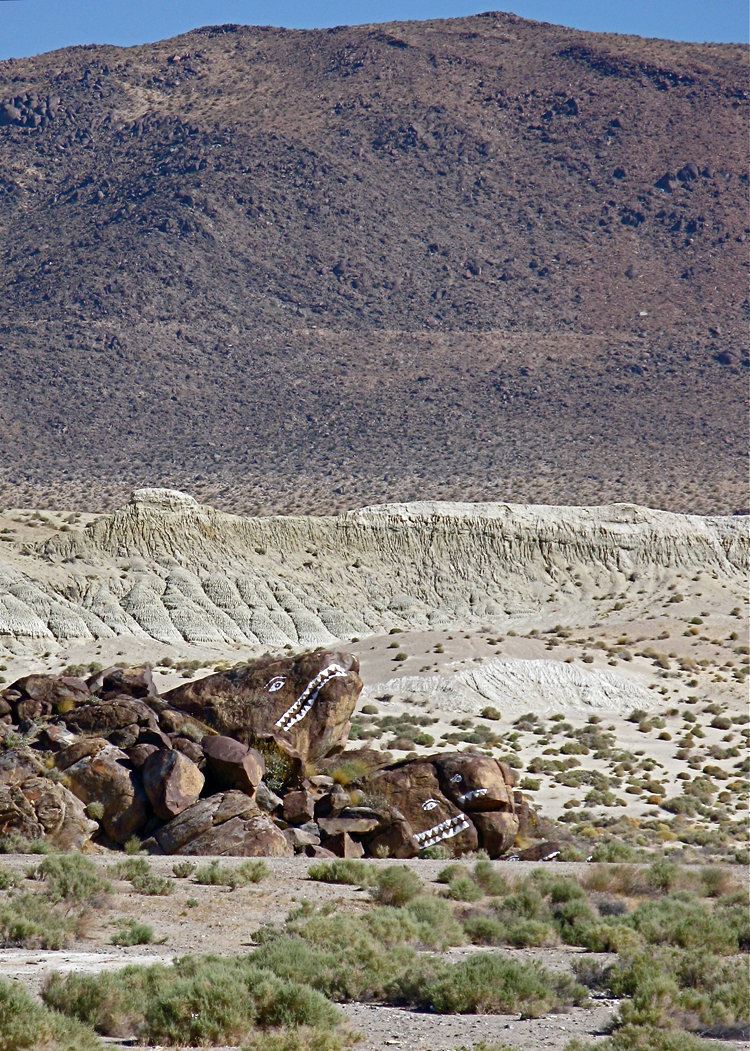 Here are the Famous Fish Rocks, kept fresh with white paint by unknown artists in Trona, California.  I admit to disappointment when I found out they were not meant to represent T-rexes rising out of the earth to once again dominate the landscape, but, even if they're just fish… really big fish… they're excellent.  Each one is the size of a van. I will think of them as Dunkleosteus. The Famous Fish are easy to spot just north of CA State Hwy 178 en route to the Trona Pinnacles.
<< Fish Rocks (A.Shock)
The Trona Pinnacles were our destination: ancient underwater spring deposits now high and dry in the Mojave Desert.  They're very large-scale versions of the tufa towers on the south shore of Mono Lake, further north, only there's no water in sight. Predictably, the only creatures there other than ourselves were a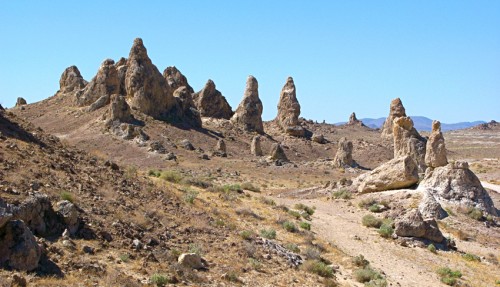 traveller in a brightly painted hippy bus, a Rock wren, and a Raven.

The towers are up to 40 feet tall. >>
Perhaps you recognize the setting from Planet of the Apes, or Star Trek V: The Final Frontier?
Surely Shiva abides here.

And also here, at the Trona Community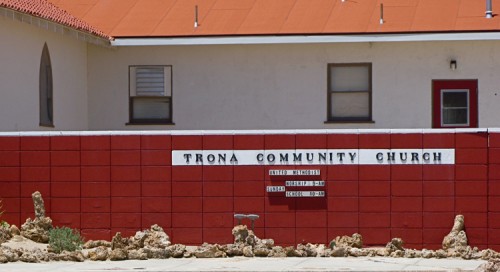 Methodist Church, which has seen fit to adorn its front entrance with smaller yet equally vigorous tufa deposits.  (Click to enlarge.)

Speaking of reverence gone awry, below is a bonus pop religious image of Shiva.  I find this version delightfully goofy: ascetic hermit my butt, there's Tres Flores in those dreads — this is Shiva El Guapo.  It seems to be a portrait of the artist's well-fed brother in law who wants to be an actor, rather than the standard idealized image of blue-male deity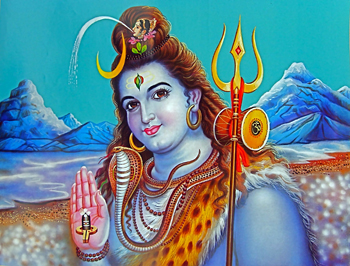 with the dreamy, stoned I mean introspective expression of the Lord of Eternity. His familiar smile and direct gaze are right out of an AFTRA/SAG headshot — instead of the blessing of Om and the Shiva-linga in his palm, this chap should be flashing us a confident thumbs-up, or making that "call me" gesture next to his Nagraj's ear.