Just a few days ago, we experienced a rare deep-freeze in the Southwest deserts.  During a normal winter it can get cold in the low desert — not Canada cold, or even Iowa cold, of course — but this was an unusually lengthy and deep cold for our desert, sinking well below freezing for several nights running, and not warming up past the mid-40s during the day.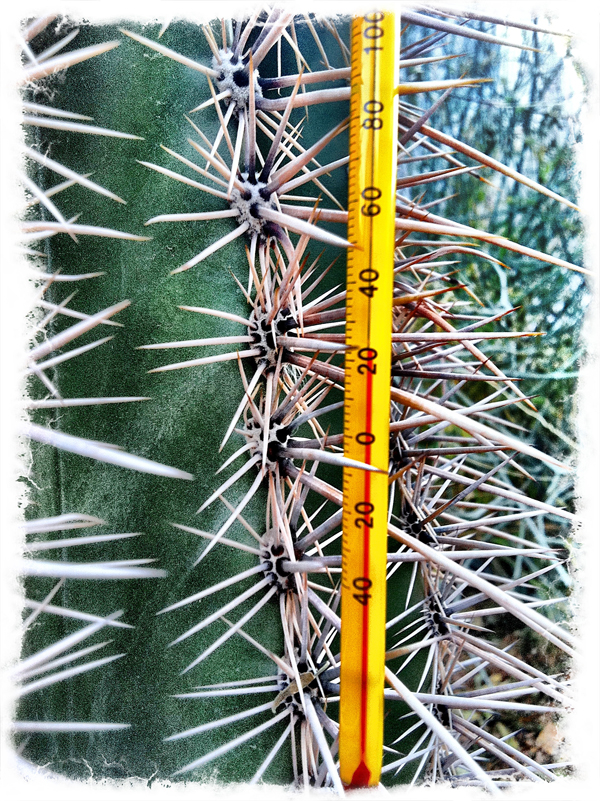 One spot in our yard went below 20F for three nights in a row.  That's enough to cause trauma and die-back even in hardy native plants.  Birds spend long daylight hours feeding frantically at both natural and human-provided food sources; mammals, too, unless they're equipped to shelter in cavities, crevices, or caves, or underground like the local reptiles and arthropods.
<< Old-school thermometer hung in a young saguaro in the cold part of our yard
Cold-powered hunger also can make animals "tame" — fearless hummingbirds slurp at feeders as they're being carried out to the trees, and aloof night-time hunters like owls and coyotes will boldly stretch their workdays into sunlit hours, and onto back porches and front yards.  This boldness can increase success in finding nourishment, but it also increases exposure, which can be risky for animals who rely on not being seen for both safety and effective foraging.  Traveling in California during an extreme coldsnap many years ago, E and I saw three bobcats in a week, because the stealthy nocturnal predators were out in daylight hours hunting sparrows and small mammals themselves made unusually unwary by the desperation of hunger.
But a mitigating feature of desert freezes is how quickly warmth follows cold.  There's no lengthy spring warm-up. Within a day or two of our arctic chill, daytime temps have already bounced up to the 70s, 10F degrees above the seasonal average.  Expert survivalists don't waste this advantage: as soon as the sun can warm air and soil again and melt pools and trickles, animals re-appear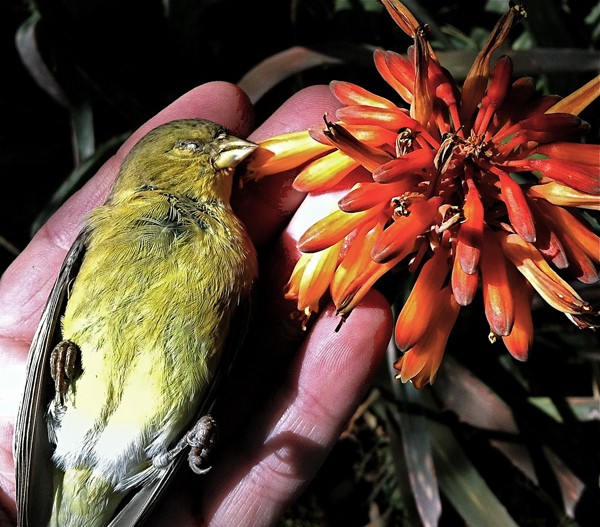 in search of food.  This morning I spotted a coyote foraging in the neighbors' front yard in broad daylight. After a cold snap, temperatures may rebound quickly, but cold leaves many animals hungrier than usual, and without whichever of their plant or small-animal food resources that succumbed to the cold. In the days and weeks afterwards, sometimes extraordinary tactics are required for survival.

>> An aloe blossom that survived, and a female Lesser Goldfinch who didn't (photo A.Shock)

That might explain E's sighting of a Stripe-tailed scorpion (Hoffmannius/Væjovis spinigerus) scuttling about on our driveway the other evening at sunset.  We seldom see scorpions moving around in our yard — believe me, I've tried, black-light and all.  Sadly, most of our encounters with these efficient nocturnal predators are with drowning victims in the pool.  And NEVER in winter — they seek shelter as soon as the weather gets cold, and don't reappear until it's balmy again.  For an exothermic organism, there's no point in being out and about in the cold, expending energy at a time when their arthropod prey is hibernating, making it hard to recover the calories lost in fruitless hunting.
Yet, here was a striper in our driveway.  Maybe it was forced by the cold to come out to try for a m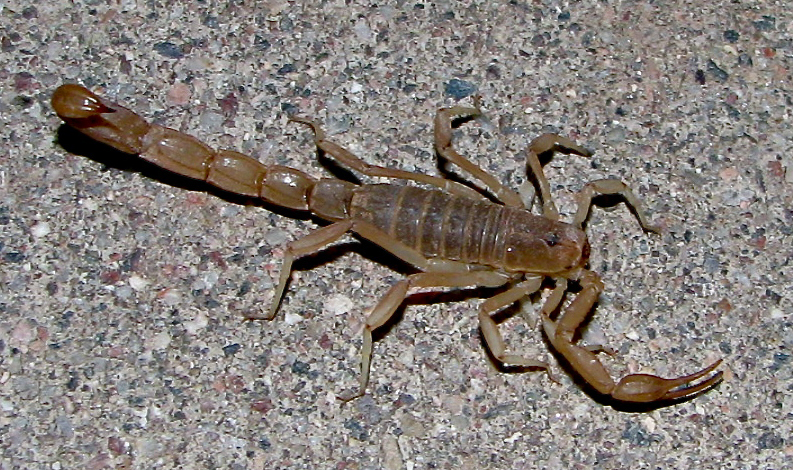 eal to boost its caloric resources so it could survive the rest of its hibernation.  Maybe its lack of left-hand grasping pincer meant it had gone into winter with fewer reserves under its exoskeleton.  What its story is we'll never know for sure.  But my hunch is that our efforts at salvaging succulents contributed to its untimely emergence.  We had stashed most of E's tender cactus and succulents in the garage when the temps plunged.  Maybe this guy was wintering in a planter, and tempted by the relatively warm dark of the garage, wandered out trying to steal a march on spring.  E snapped a couple pix for me, and let it go on its way, to whatever resolution it could manage.
Good luck to it in its wanderings to find dinner and a new refuge.  But I wonder what that hunger sharpened coyote was rummaging for so hopefully across the street "after hours" this morning?  Sometimes it's the late bird that gets the worm.