Last big monsoon event brought rain and a spadefoot to our Phoenix area yard. Tuesday night's big monsoon event brought even more rain and a centipede.
This guy is a Scolopendra polymorphus, a Sonoran centipede, sometimes called a tiger centipede. This one is about 4 inches long (they can grow up to about 7 inches), and has crawled up the outside of our back door screen, possibly in search of prey, or maybe to escape flooding in the nearby soil, where it very likely dens up.
It's a beautiful animal, although I have to admit I'm not partial to centi- or milli-pedes (it may be all the pointy little appendages) but as this one's a neighbor, I'm trying to be inclusive. Apparently, I'm not the only one who has a hard time liking them. Our cat, Hector Halfsquid, spent the evening on the inside of the wet screendoor alternately approaching hesitantly and hurriedly backing away from the centipede, giving the impression of being simultaneously fascinated and repulsed by it.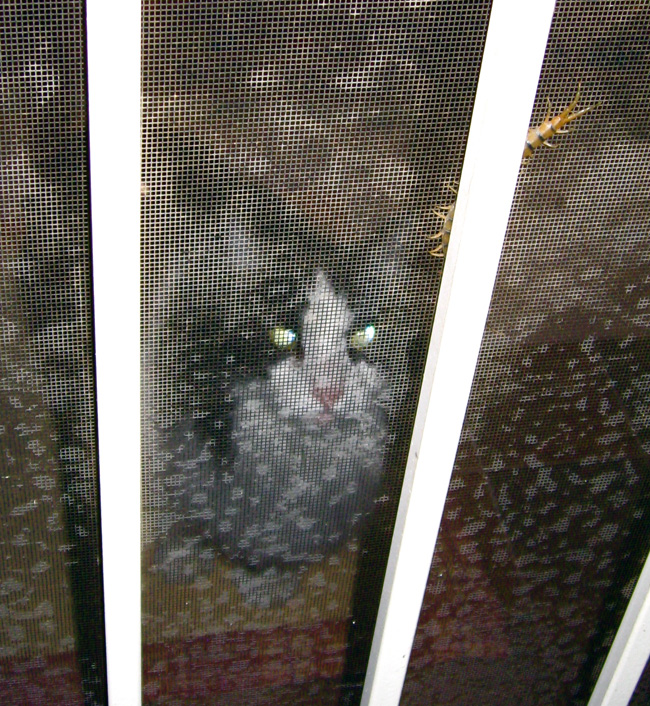 (Photos A.Shock)
In fact, even today he's still giving occasional neurotic "creepy hops" where from deep sleep he suddenly jumps out of his skin, apparently having received Gary-Larson-esque "cumulative willies" from the many-legged visitor. Hector's wariness is probably justified, as these guys can deliver a powerful and venomous bite; not dangerous in most cases, but certainly painful.