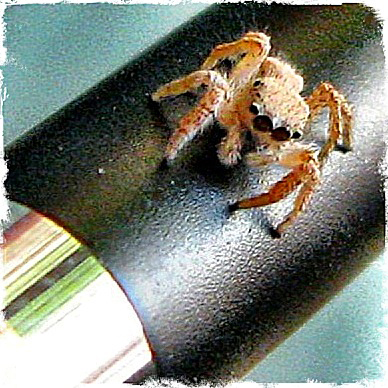 Doesn't it look like a Jeep?
Those dark "headlights" are eyes, which jumping spiders, unlike most spiders, rely on to hunt.  I can count three pairs: two on the front (big and little) and one on the side (little).  See 'em?  There may be more…

We photographed this tiny jumping spider before relocating it outside, since the sofa was not a safe location for it.
So that you can fully comprehend its tininess, know that it's sitting on my cell phone stylus, which is slightly smaller in diameter than a typical pencil.  Officially: dinkose.  It's a Dinky Dude of the Desert, arachnid-style.
I don't know enough about jumping spiders to know its common name, if it has one, or even its genus.  Anyone?  For more info, including technical identification keys and species accounts, click on jumping-spiders.com.  The photos running on the masthead are worth checking it out for.

(Photo by E, edited by A Shock)