Driving home with E from campus this evening, we saw a turtle in the street. It was at the corner of Curry and Mill, lodged uncomfortably against the curb, traffic whizzing past just inches away — stranded halfway between the green lagoons of the Zoo and Tempe Town Lake, but blocks from either.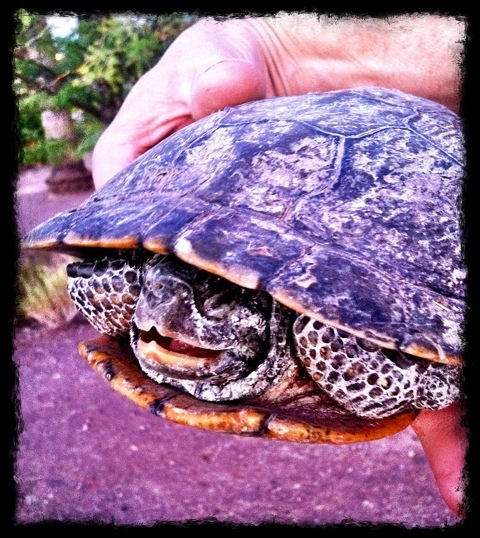 Heroically, E leaped out of the truck and ran back to check on it. It was a red-eared slider (I think; I'm no expert on turtles), and as far as we could tell, she was intact. E put her on the floor of the truck between his feet, and we headed to the zoo.
There is a chain of ponds off the zoo parking lot, a palm-lined man-made aquatic environment stuffed with turtles and ducks and perch and algae — a place that could easily absorb another turtle, or welcome back one who had wandered away.
We set her on the rocky shore right at water line, but she just sat there, head and legs still pulled in tight to her shell. Then GLOOP — she launched with a small splash, oaring madly to the bottom of the lake, and was gone.