Low desert mornings are beautiful in May and June, the air still cool and crisp before the slight sogginess of monsoon season sets in later in the summer.  The real desert is even cooler, but here in our corner of Phoenix there is enough open saguaro-y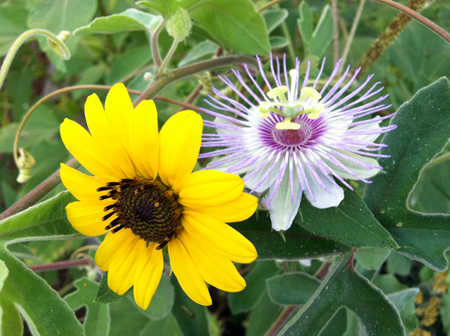 space in nearby Papago Park and few enough lawns in the 'hood to maintain a deserty feel in the air.
Sunrise this morning was prime, overseen by a waning gibbous moon still high in the sky, and I wandered into the back garden early to see who was around.  I found a pair of complementary blooms: a passion flower winding up a sunflower — sunrise and moonset together on a garden scale.
While I was admiring them, tiny Lesser goldfinches flew into the sunflowers to fress.  We put out nyjer thistle in feeders for them, but even still they're always hungry enough to rifle the seedy charms of a sunflower.  So we let the reseedlings take over the herb garden in the summer, and allow the basil plants and mexican hats go to seed for the little yellow dinosaurs, who repay us by spreading the seeds around for next year's crop.

The Lesser Goldfinch below came within feet of me to feed.  Her boldness can be interpreted as lack of experience — she's a juvenile, and not as jaunty as the big boys, but she'll do. (Photos A.Shock: upper, with iPhone4/Camera+app; lower, with Canon EOS xti, 55-250mm zoom)