A praying mantis egg-case is not something you can easily find if you're looking for one.  So, imagine our surprise — again! — when E looked up at a random, leafy, and low branch of the big backyard mesquite, and said, "Hey,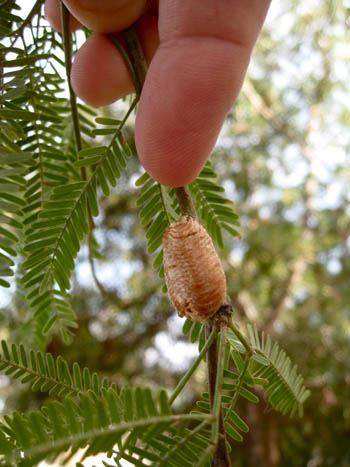 look!"  There was a tiny brown-loaf-looking mantid egg case, stuck to a thin twig towards the whippy tip of a branch.
This was our second mantis-related sighting of the week — the other is described here, in the latest post on this blog.
So, we'll be keeping an eye on this one, to see if it hatches, now that warmer weather is here.  And, who knows how many more are out there?  With luck, the yard will be mantis-rich before long.

Praying mantis egg-case on mesquite twig, finger for scale (Photo A.Shock) >>
And stay tuned to read about what I encountered under the mesquite just now, while checking on the mantis-egg case…