…family and clients who enjoy, enhance, and support Three Star Owl.
Especially to two friends who generously shared their time, creativity, and expertise to make Three Star Owl a better artistic enterprise in ways I couldn't have managed on my own.
Thanks to Jack Follett who made wonderful copper shelving for portable displays at Three Star Owl sales events.  He based the design on original shelving made awhile back by another good friend, Leslie Wood, in St. Louis.  Both the old and new shelving are strong, easy to transport and set up, and are so elegantly conceived and constructed that people come over to the booth to admire them!  Many thanks, Jack!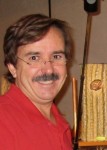 And thanks also to the inestimable Ed Bustya who created the threestarowl.com website for me, and who generously offers me the benefit of his experience with sales events, and ideas for outlets, ventures, and possibilities for new directions for the flight of Three Star Owl.  Much appreciated, Ed!
Ed and Jack have in common a deep appreciation of birds and the natural world, and each one spends a lot of time outdoors and traveling, Ed photographing, and Jack birding and volunteering for bird and wildlife related organizations.
Hope the coming New Year is a healthy, happy, and hopeful one for everyone!