(The second in a series: read the first here)
The next session at the Ganskopf Foundation Library was much like the last (the first I omitted because no drawing actually occurred, just filling out lengthy forms, and being issued a visitor's ID).  This second appointment had also been arranged by Professor Harrower.  Once again he'd sent the list of three accession numbers to request for illustration by regular postal mail — I still haven't met him in person.
After I'd signed in and passed through the security turnstyle, the same librarian, Miss Laguna, came out of the glass office to meet me.  Like last time, I was the only patron there.  I handed her the note with the acquisition numbers of the target owls.  She seemed to hesitate slightly when she saw it and read the numbers, but she disappeared into the secure stacks and left me at the same table as before to set up my graphite pencils, kneaded eraser, and pad.  This time I had brought my own desk lamp, and plugged it in where she had indicated.  The stronger directional light made a big difference: fluorescent ceiling lighting flattens everything out and distorts color.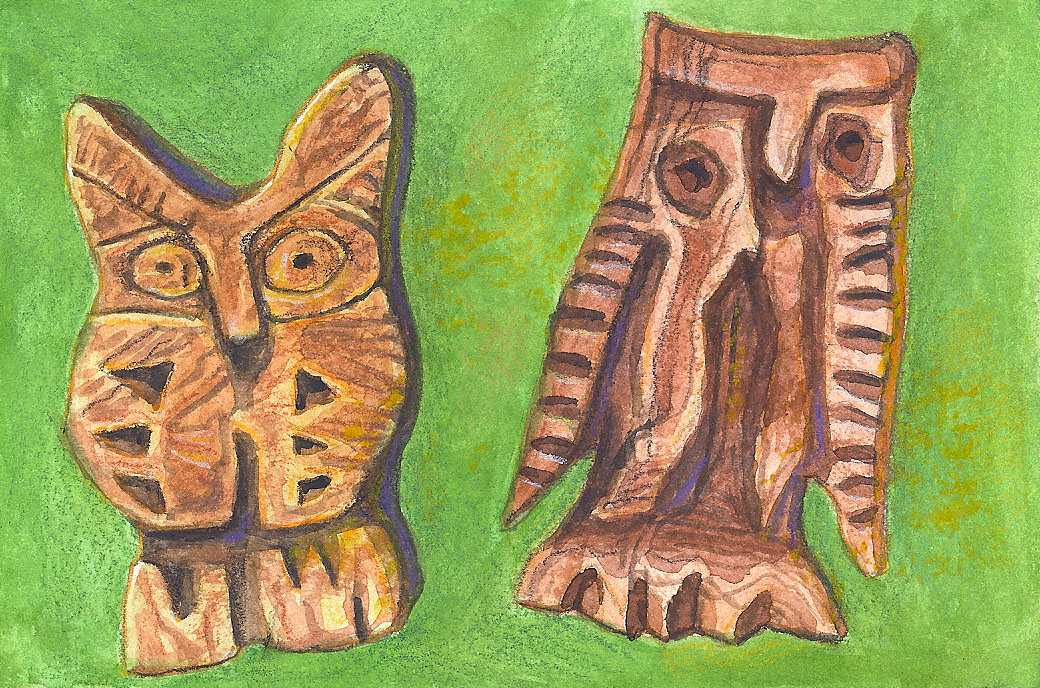 When she returned, Miss Laguna had three "fetishes" on the black pillow, and as she walked two of them clunked together a little at each step.  Her casualness about this, after last time with the rubber gloves and special measures, was surprising.  These owls were larger than the previous selections, each being several inches long, and made of what looked to me like pine bark.
Here are brief descriptive notes from that session:
GKC/orn247 a-b (shown above, green background): these two squat, eccentric owls

are

very similar to item

GKC/orn872b

which I drew last time: "eared" owls made of bark, probably pine.  They differ from the earlier one in that more deliberate geometric and linear carving has been made on their surface, instead of merely allowing the fissures in the bark to show owlishness.  My unscientific response is that these carvings are humorous, and they make

me laugh.  I've drawn them together since they seem, at least by accession number, to be associated, although to my eye they don't have much else in common, other than being small pinebark owls.

The third figure,

GKC/orn644f (

right),

seems too large to call a "fetish" — it's 10.3 cm in height, and what I would characterize as anthropomorphic: it looks like an "Owl-man" because its legs are long and end in paw-like feet rather than talons.  As with the other two, the back is flat and un-altered, except for a vertical groove indicating the legs, which corresponds poorly to the one in the front.  I find this one

a bit

creepy: with no arms (or wings) and an uneven, stretched silhouette, it seems like a hostile doll, up to no good when no one's looking.
But creepy or humorous, these pieces looked to me like indigeno pine bark carvings sold in tourist shops in Chihuahua — admirable folk art, but not "mystery relics" as they're being called in the press, and not particularly ancient.  However, I'm not an expert.

I mentioned that to Miss Laguna, and asked if she knew why the Herr Doktor Ganskopf had collected them, but her answer was incomplete, something like, "They're cute, but the other one is more…"  I asked if she meant Creepy Owl-man, but she said no, the simpler pine-bark owl from my previous visit. When I asked if it would it be possible to see that one again, she told me it was on loan that week, and lifted the pillow with the fetishes and took them back to the secure stacks.  I unplugged my lamp so the bulb had time to cool.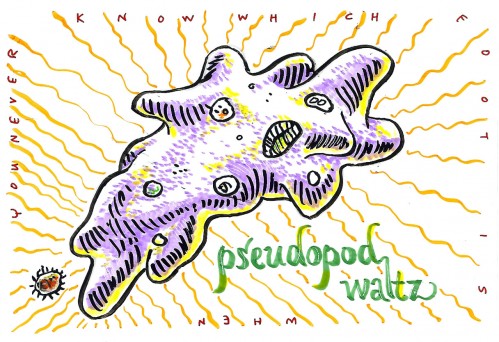 The only other thing that happened was that when I got out to the parking lot, it was raining and the car had a flat tire.  Glen, the parking attendant, offered to put the doughnut on for me, but I told him it was a rental, and they would fix it.  It took the rental company guy forever to find the place, but he finally arrived and took care of it.