Once again, and for the usual reason, my blog posts have dwindled to a sticky, paltry stream with occasional tart strands of zest, like marmalade that didn't set.  It seems that when I really have to turn on the afterburners in the clay studio to meet a deadline, my brain shunts itself into non-writing mode.  This is acceptable because it results in Concentrated Clay Effort, but really making art doesn't have to interfere with the amplitude or frequency of this space: after all, a picture's worth a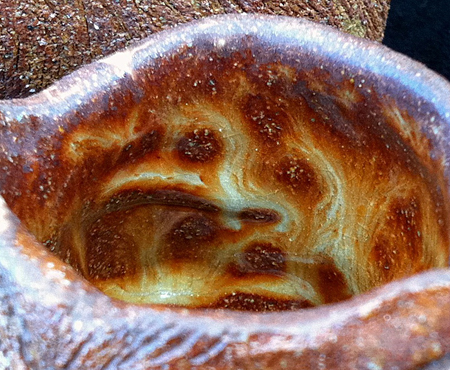 thousand words, and I can be fully entertained by one simple striking image.  Perhaps you are too, so here's a double-duty photo for your perusal: self-promotional eye-candy, but still full of tasty chewy, glazy, custardy goodness, like a good doughnut.
You are looking into the woozy interior of a small repoussé sake cup: the swirly glaze is very sensitive to its own thickness which varies considerably because each tiny cup is owl-shaped, modeled by pushing out with the fingers and in, usually with tools, so that the inside reflects the outside.  The resulting curviness in the walls gives the glaze lots of moguls and dips to flow into and around.  (The opalescence of the rim is an artifact of light: it's the reflection of the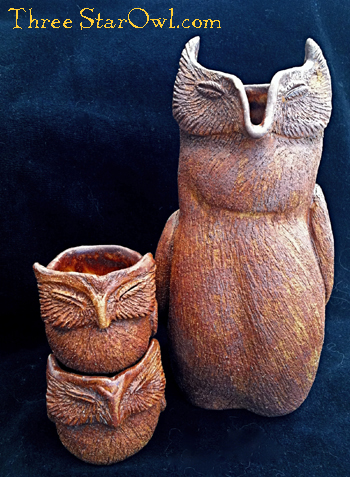 blue sky overhead, and if the cup were in your hand, you'd see the whole effect of the glaze was more like golden honey than sky-rimmed lava.)  The slick, glossy interior flows contrast with the hair-like scoring on the outside of the pieces like marmalade on toast.
Here's the entire "Boiled Owl" sake set, two tiny cups and a small pitcher meant for sake but good for any potent liquid that needs judicious sipping.  >> This one and a small number of others will be debuting at the Three Star Owl open studio during the Camelback Studio Tour Friday Saturday and Sunday of this week (9,10,11 March 2012). I hope you can stop by and check them out.  More details later!
(Both photos A.Shock)