… it just seems like it sometimes.
This Friday Saturday and Sunday, from 10am – 5pm March 9, 10, 11, it's time for the spring Camelback Studio Tour, and if you visit the Sherwood Heights neighborhood of south Scottsdale, you can find lots of things besides owls, even at Three Star Owl Studio (Studio #3 on this map).  Among the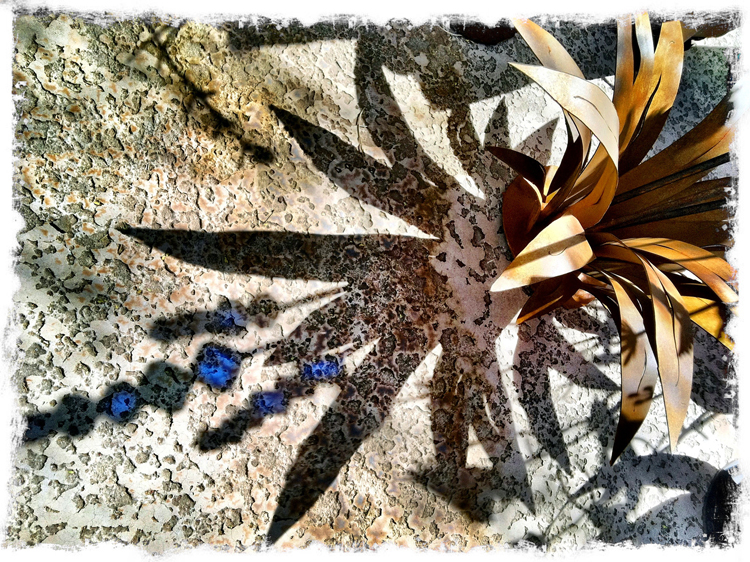 exciting Non-Owlular things available are the metal south-west themed garden sculptures of Tracy Paul of Pentimento Metalwork.  Here's a tantalizing image of the shadow of one of Tracy's agave-like creations. >> She's brought a large selection of delectable items and strewn them artfully around our rambling garden, where you can wander around searching them out.

And, there are three other studios to visit filled with paintings, clay, jewelry, glass, and gourds handmade by local artists Lynn Gustafson, Vickie Morrow, Pam Harrison, Jan Campbell, Chris Demma, Reg McCormick, Bernie Nienebar, Lynn Strolin and Margaret Sullivan.
Of course, Three Star Owl Clay is stocked as usual with a motley assortment of owlishness (that's motley said with pride), some new like the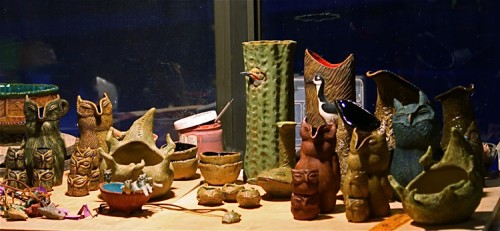 Boiled Owl Sake Sets (see previous post for photos) and Napping Owl Tumblers — which exude a quaint whiff of Victoriana, pushing Retro all the way back to the Martin Brothers.  But I'll also have on hand some non-owl favorites like Horned Lizard Bowls, a Gila Monster Effigy bowl, Frog Skeleton Mugs, and also a bit of species-faithful Wazzo-ware for the birders among us, and more.  The photo above is my studio bench tonight, with new items waiting to be photographed and priced — note the Gilded Flicker in the Saguaro vessel: definitely Not An Owl, for a change.  Oh, and a couple of Writhing Rαt Dog planter/bowls.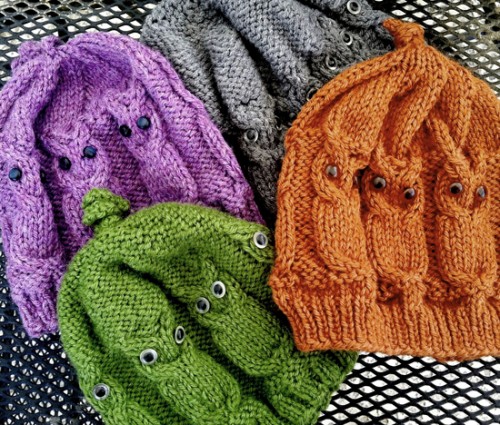 << And for the first time ever, I'll have hand-knit hats for sale by Sylvia Schoenfeld (my mother), like these.  And yes, those are owl cables with button eyes — which makes them most definitely mostly about owls.

(All photos A.Shock)