Rat, pig, dog, hedgehog, chupacabra, what?
The answer is all of the above.  Long a mainstay of Three Star Owl sculptural subjects, this pointy-ended, feisty-looking, toothy mammal has been called all of them.  And that would be correct — called a "rαtdog"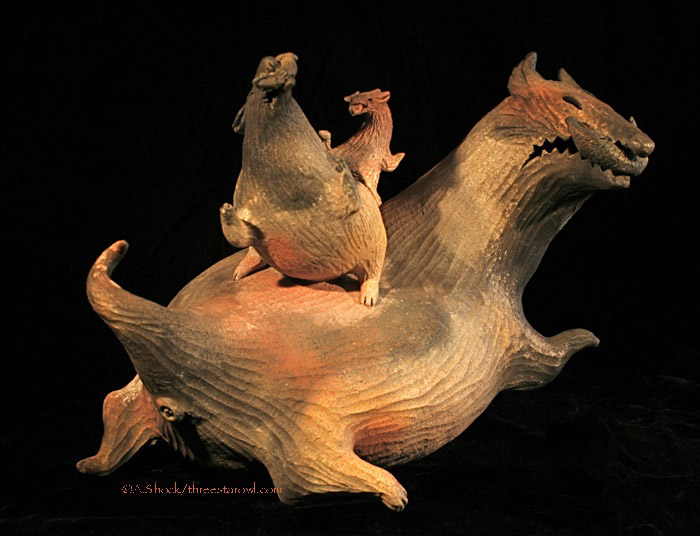 for convenience — it stands for Every Mammal, including us human ones.  Rαtdogs represent the Mammalian experience, and are intended to repulse and appeal simultaneously.  My hope is that people will want to pick one up, even though it looks like it might bite, or transmit a disease.
Above is the latest rαtdog piece, "FishDog Stack", fresh from its smoky firing.  Like the related piece Toadstack, it's mainly about heterotrophy: eating other organisms, but only because rαtdogs haven't figured out how to synthesize cholorophyll yet.  FishDog Stack just trundled off to its new home this afternoon, which always makes me happy.
(Photo A.Shock.  Currently there's a detail of FishDog Stack on my Homepage.  Also check out an image of an earlier rαtdog piece "Acorn Competition" in the Gallery — click on the third thumbnail at the bottom.)