As I mentioned previously, there are two pieces of mine in the NCECA "Potters as Sculptors; Sculptors as Potters" show currently up at Mesa Community College (see the Three Star Owl Events page for details).  One of them is the long-evolving "Toadstack" (the other is Venomosity which can currently be viewed on the Home page.) As promised, here is the entire Toadstack story in pictures, culminating in the final state of the piece.  They go from L to R and Top to Bottom; don't forget you can click on an image to enlarge it:
and the finished piece, Stacked Toad Teapot Effigy (Toadlier than Teapotly):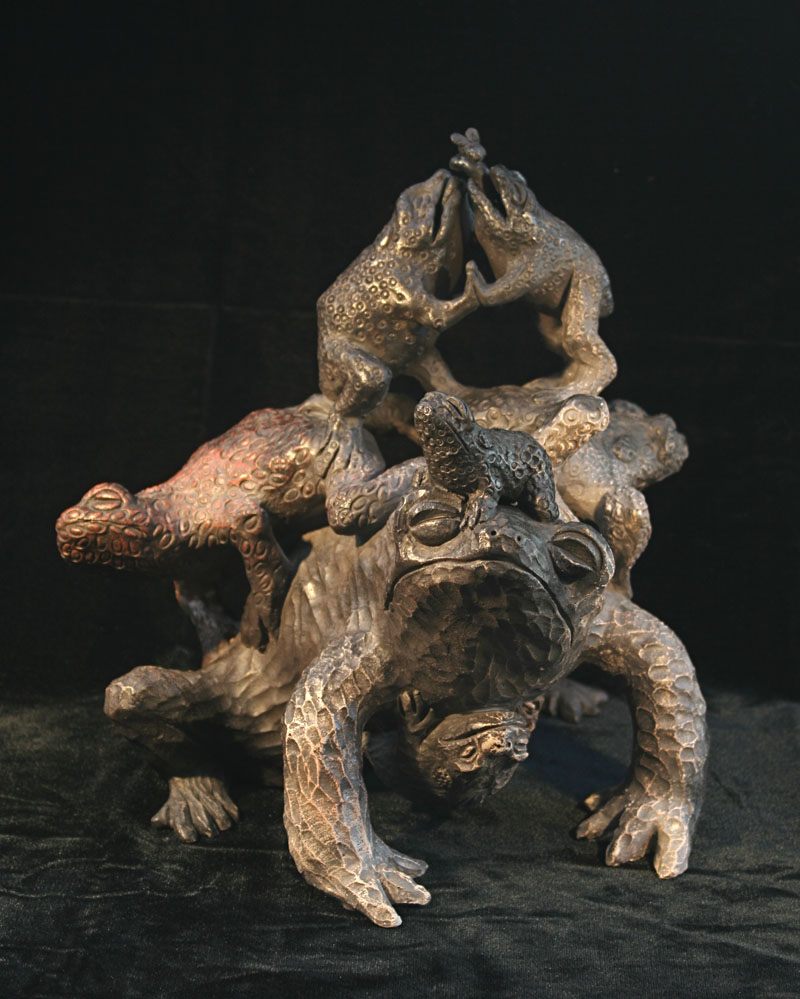 This show is associated with the annual NCECA (National Council on Education for the Ceramic Arts) Convention, which opens in town tomorrow (Wed 8 April).  From now until Saturday, Phoenix will be popping with potters, sculptors, and ceramic arts educators.  The downtown Phoenix Convention Center is the main venue, where the discussions, demos, lectures, and exhibitors will be located.  There's a fee to attend that part of the conference, but there are many many galleries, museums and other display venues which have shows up featuring the work of both nationally known and local clay artists, and these shows are FREE AND OPEN TO THE PUBLIC.
So if you like looking at the broad range of contemporary ceramic artwork and what's being made in America today in clay, check out the NCECA website for lists of and maps to the concurrent shows and outlying venues which are all over the metro area.  Principal show clusters are located in Tempe, in and around the ASU Campus; Mesa, at both the Community College and the Arts Center; downtown Phoenix in the hotels around the Convention Center; and Scottsdale, in the Old Town Arts District, a fun and stimulating place to visit anyway.  It's a great time in Phoenix to Get Out and See Art.